Snell AMC2000 THX Ultra2 In-Wall Speaker
Snell AMC2000 THX Ultra2 In-Wall Speaker
Filed under: Loudspeakers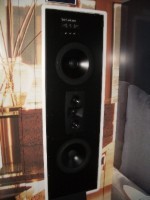 The AMC 2000 is the in-wall version of the world's first THX Ultra2 certified speaker. With this speaker Snell has attempted to solve three problems that often plague In-Wall speakers. First, to establish predictable bass response a special "back-box" enclosure was developed, which like all conventional loudspeakers, determines the speaker's bass response. Second, the best materials were used in order to prevent the sound from being colored and leaking to adjacent rooms. The AMC 2000 features a heavily braced and well damped MDF cabinet to optimize performance by controlling resonance. Third, the tweeter-midrange array is "toed"in" to replicate the sound stage capabilities of free standing speakers. The result is a system of uncompromising neutality and dimension.
The AMC 2000 deploys the components of the award winning Snell XA 1900THX in a space efficient enclosure designed to fit into conventional 2 x 4 walls, even behind acoustically transparent screens. Intended for home theater and music system's L/C/R channels, the AMC 2000 features a three-driver eXpanding Array (XA) of dual 2 1/2-inch midranges and 1-inch aluminum dome tweeter. This unique driver/crossover innovation manages vertical directivity without lobing, for a natural and "airy" soundstage. Furthermore, its controlled dispersion pattern and special tuning compensate for unpredictable room acoustics and boundary interactions. Coupled with two 8-inch high output woofers, theAMC 2000 is capable of tremendous output, providing effortless, powerful sound to below 60 Hz. Every AMC 2000 is assembled by hand and individually calibrated, assuring performance to within 0.5dB of its reference standard.
Frequency Response: 63Hz-20kHz + 3dB
> Recommended Amplifier Power: 75 to 250 watts
Nominal Impedance: 6 ohms
> Sensitivity: 90dB
Tweeter: 1" ferrofluid cooled aluminum dome with separate PVC surround
> Midranges: Dual 2 12-inch, in separate enclosure
> Bass Unit: Dual 8-inch, long excursion bass units
Crossover: Conforms to an "in-phase" or Linkwitz Reilly design
SPECIFICATIONS
> Platform Baffle
Exposed Layer: 1/4" MDF
> Damping Layer: High Loss Polymer
Inner Layer: 1/4" MDF
> Grille: Matte white, perforated metal
Controls: Treble level, boundary compensation, perforated screen compensation
> Dimensions (HxWxD): 42" x 14" x 334"
> Rough Opening Requirements: 40 78" h x 12 7/8" w
> Weight (Shipping): 45 lbs.
For more info visit www.snellaccoustics.com .