Sharp 1080p LCD Lineup
Filed under: TVs and Displays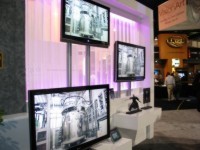 Sharp unveiled new AQUOS 1080p LCD TVs today at the CEDIA show in Denver. Sharp's "full HD" product lineup is highlighted by the first AQUOS models to come out of the company's brand-new LCD factory, Kameyama No. 2. These 46- and 52-inch large-screen AQUOS HDTVs, together with a new 42-inch model, mark the introduction of three new screen sizes to the brand, all of which feature 1080p resolution, dramatically enhanced contrast ratios and pixel response times that are among the fastest in the industry.
With the addition of the AQUOS D62U line, Sharp offers full HD 1080p models in six screen sizes (37", 42", 46", 52", 57" and 65") - more than any other manufacturer. The company has unsurpassed LCD screen manufacturing capability, highlighted by its recently-opened state-of-the-art Generation 8 factory, Kameyama No. 2, which focuses solely on the creation of large-screen units. Kameyama No. 2 is the world's first and only 8th-generation LCD facility and will enable Sharp to build the most advanced flat-panel televisions in the world, and also help to meet the growing demand for competitively-priced large-screen high-definition LCD TVs in the U.S.
The models produced at the Kameyama plant (46- and 52-inch) will feature the latest version of Sharp's proprietary Advanced Super View panel for extraordinary LCD performance. This panel technology enables an incredible contrast ratio for deep blacks and crisp picture quality; enhanced Quick Shoot video circuitry for faster pixel response time; and wider viewing angles (up to 176 degrees), so users can view the television from virtually anywhere in the room. The 46- and 52-inch models will also include Sharp's proprietary 4-wavelength backlight system that provides a wider color spectrum to achieve deeper, more vivid reds than was previously possible. Additionally, all units in this series include dual HDMI inputs, both of which are compatible with 1080p signals from Blu-ray devices.
All three models will be available in October, the LC-42D62U for a Manufacturer's Suggested Retail Price (MSRP) of $2,499.99, the LC-46D62U for an MSRP of $3,499.99, and the LC-52D62U for an MSRP of $4,799.99.
For more information visit sharpusa.com.