Sanus Systems Flat Panel Mounts
Sanus Systems Flat Panel Mounts
Filed under: Furniture and Mounts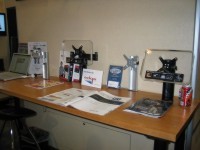 Sanus Systems showed a wide range of new mounts for flat panel displays, including a new Recessed In-Wall Box (Model LR1A) that allows a digital TV to rest snuggly against the wall, hiding the mount in the process. This durable product is simple to install and fulfills a user's desire to have a TV flush with the wall with no visible wall mount. When used with Sanus Systems' VisionMount™ VM400 or LRF118 Wall Mounts, virtually any TV from 15" to 50" can be mounted so that the TV can be pulled out and pushed back, depending upon viewing needs. For instance, with use of the VM400 Full-Motion Flat-Panel TV Wall Mount, a TV weighing up to 80 lbs. can be extended from 3.5" to 20" off the wall.
Model LR1A In-Wall Box is made of heavy gauge steel that provides incredible strength and rigidity. It is installed by cutting a hole in the sheetrock between wood studs and nailing the recessed box to the studs. The In-Wall Box is available in a silver, black or paintable white finish. It features cutouts for signal and power cables.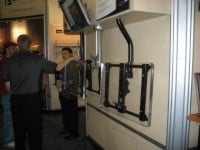 Also introduced were three new VisionMount full-motion wall mounts for medium LCD flat-panel TVs. The new mounts offer tilt, swivel, pan and extend motions and feature Virtual Axis 3D technology for smooth, effortless tilting with the touch of a finger.
The full-motion mounts' state-of-the-art engineering and strong, durable construction provide an aesthetic design that cleverly hides hardware while supporting TVs up to 60 lbs. Sanus' new Virtual Axis 3D technology features a cup-shaped design that allows mounts to move effortlessly in all directions without loosening or tightening the bolts.
Models MF203, MF209 and MF215 are available in silver or black with a powder-coated finish, and all offer smooth, effortless tilt and swivel capabilities. Model MF203 extends up to 3" from the wall and MF209 up to 9". MF215 includes a unique extension arm, allowing it to reach up to 15" from the wall for viewing from nearly every angle. All three mounts are compatible with VESA 75, VESA 100, VESA 200 x 100 and VESA 200 x 200 patterns.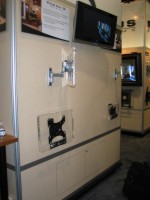 Rounding out the new mounts being shown on the CEDIA floor were two new VisionMount Full-Motion Desk Mounts for small and medium flat-panel monitors. The new mounts offer smooth tilt, swivel, pan and extend motions and easily attach to desks up to 3" thick without the use of tools. With an extruded aluminum and solid heavy-gauge steel construction and a durable, powder-coated finish in black or silver, the mounts are as stylish as they are strong. Model SD103 offers tilt and swivel motion and independent tension adjustment for arms and head, as well as a wire management channel to keep cables under control and out of sight. Model SD115 features an articulating arm that extends up to 15 inches from the wall in addition to the same tilt and swivel motion as the SD103. This mount also offers a unique ability to either clamp onto the back of a desk or to mount directly into the wire management hole featured on many office desks.
The SD103 and SD115 are compatible with VESA 75 and VESA 100 patterns and support flat-panel monitors up to 20 lbs. Both mounts feature a wire management channel and height adjustment for optimal viewing.
For more information please visit www.sanus.com.