Samsung's New Slim DLP Rear Projection TV
Samsung's New Slim DLP Rear Projection TV
Filed under: TVs and Displays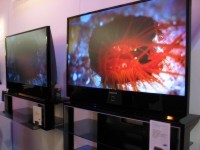 Samsung Electronics new 46" Widescreen DLP HDTV with 720p Resolution model features a cabinet only 10.6 inches deep and weighing a mere 46.3 pounds. The 46" DLP's flat design makes it perfect for shelf mounts and TV stands, while its 41.3" width makes it the perfect upgrade for analog tube TVs in existing entertainment centers. The ultra-thin bezel reduces the border, so the only thing seen is the screen.
Samsung's HL-S4676S 46" DLP HDTV with 720p Resolution offers 1280 x 720p HD. The built-in HDTV tuner (ATSC) lets users access digital broadcasts while enjoying digital sound and picture from the dual HDMI (High-Definition Multimedia Interface) connections, which also connects with other digital devices, such as DVD players, creating an optimal sound and picture experience. The HL-S4676S is powered by Samsung's Cinema Smooth Light Engine and uses Samsung's next-generation DLP chip and color wheel which delivers a razor sharp image.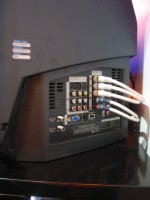 Gamers will become impressed with the optimized Game Mode, which delivers graphic optimization, dark area enhancements, increased response time, and improved sound capacity for the latest video games on the market. Connect your digital camera and other storage devices through a USB 1.1 to easily display your digital photos in crystal clear resolution on screen. And a PC-input provides an easy connection to a notebook or computer.
The HL-S4676S 46" DLP HDTV is available for $1,999 MSRP.
For more information, please visit www.samsung.com .