Samsung's New Line of Plasma HDTVs
Samsung's New Line of Plasma HDTVs
Filed under: TVs and Displays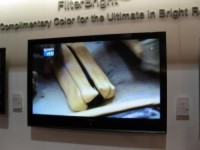 Samsung's new family of plasma TVs has FilterBright technology which is a powerful anti-reflective film that absorbs external light and transmits internal light, thereby increasing the contrast levels and preventing unwanted reflection. In bright daylight, FilterBright creates high contrast with pure black to show clearer image details and generate superb industry-leading dark area representation. All of the 2006 plasma TVs feature an impressive 13-bit signal processing power for an astounding 549 billion displayable colors, in addition to high contrast ratio (10,000:1) and brightness (1300-1500 cd/m2). Consumers will enjoy a theatre screen experience, as the 16:9 wide display has an unobtrusively-integrated speaker at the bottom of the unit. With a minimum of four HD connections the fifth-generation plasma models provide convenient connectivity for all of today's digital devices. The latest plasmas also feature auto-pixel shift for burn-in resistance and PC picture-in-picture. And with Samsung's elegant new designs, the 2006 PDPs also double as the showpiece of any room, even when the set is off.
73 Series
>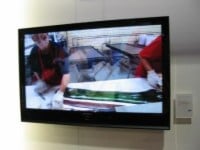 Available in 63", 50" and 42" models, Samsung's 73 Series plasmas incorporate the newest innovations in multi-media convergence technology in an elegant "invisible speaker" cabinet design, and a consumer-friendly swivel stand which allows convenient repositioning for a flexible viewing angle increasing the flexibility of the TV's possible placement without compromising picture viewing quality.
The 73 series also offers FilterBright Plus technology, which is an added step up from the standard FilterBright technology. This series offers a double film to reduce reflection and produce a clearer image details.
Two HDMI and component connections offer superior and seamless connectivity with peripheral entertainment devices, such as gaming consoles and DVD players. The 16:9 screen aspect ratio and 175° viewing angle provide users with a true cinematic picture from anywhere in the room, and the ATSC digital cable-ready tuner gives consumers access to the latest HD content without the need to add a set-top box.
The 73 plasma series also offers a 9-in-2 multi-card interface slot located on the side panel, allowing consumers to access digital photos and other information from portable digital storage devices. This impressive feature is compatible with all Secure Digital,
Multi-Media Card, Memory Stick, Smart-Media, Extreme Digital, Compact Flash, Micro-Drive, Magicstor and Memory Stick Pro memory cards.
The 50" HP-S5073 and 42" HP-S4273 will both be available in August 2006 at $4,199 MSRP and $3,199 MSRP, respectively. The 63" HP-S6373 will be available in September 2006 at $7,999 MSRP.
53 Series
> The 53 Series plasmas place Samsung's outstanding picture quality front and center in a TrueWide elegant "invisible speaker" cabinet design. The 16:9 screen aspect ratio, combined with Samsung's detailed color, contrast and brightness provide an unforgettable HD screen experience. With a built-in ATSCNTSC tuner, PC Input, and two HDMI ports, the 53 Series plasmas let consumers expand their entertainment horizons with convenient connections to HD content sources.
The 50" HP-S5053 and 42" HP-S4253 is currently available at $3,699 MSRP and $2,699 MSRP, respectively.
For more information, please visit www.samsung.com .