Samsung 7th Generation Line of LCD HDTVs
Samsung 7th Generation Line of LCD HDTVs
Filed under: TVs and Displays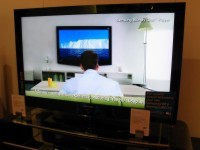 We got a chance to check out some of the new Samsung LCDs and walked away impressed. We liked the styling, the dimming front lights, and recessed speakers. Available in 52", 46", 40" and 32" screen sizes, the latest additions to Samsung's LCD HDTV family Samsung's 92, 95, and 96 Series LCD HDTVs include S-PVA (Super Patterned Vertical Alignment) panel technology to provide a wider viewing angle, wide color gamut CCFL (Cold Cathode Fluorescent Lamp) backlight for a brighter picture and increased color accuracy, and 1080p resolution for the 95 and 96 series, 40" and above.
A special Game Mode feature reduces lag and provides improved graphics and sound for a truly immersive video gaming experience. A built-in RS232 port in the 92 series allows users to connect Samsung MP3 player models and other portable audio players and navigate music files on-screen via LCD remote control. Samsung's unique DACS (Dual Audio Chamber Speaker) System features dual dedicated acoustic chambers for expanded low-range, and separate mid/high-range speakers, and SRS Tru Surround XT provide the ultimate in cinematic sound.
92 Series
>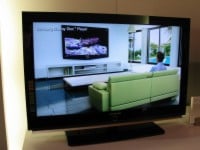 The 92 series offers 46", 40" or 32" screen sizes, all with the same styling, so consumers can maintain a consistent design balance when placing sets in additional rooms. Samsung's unique design places the speaker at the bottom of the set to create a clean, hidden effect. The LCD models offer 1366 x 768 progressive resolution and a 92% wide color gamut. With a dynamic contrast ratio of 5000:1, the 92 series LCDs display video in rich, vibrant color for a picture that is more realistic and inspiring than ever. A wide 178° H/V viewing angle allows consumers to enjoy the screen with perfect clarity from almost any vantage point. Two HDMI, PC, Composite, S-Video and side AV connections ensure that users can hook up peripheral devices with ease.
The 46" LN-S4692D has a $3,799 MSRP while the 40" LN-S4092D has an MSRP of $3,099; and the 32" LN-S3292D comes in at a $1,999 MSRP. All are currently available.
95 Series
> The step-up 95 series adds 1080p capability, allowing the user to enjoy the ultimate in high definition with a resolution of more than two million pixels. The 95 Series features an expanded 6,000:1 dynamic contrast ratio for stunningly deep blacks, and bright, clear whites. The 178 viewing angle provides consumers with a high quality image from almost anywhere in the room.
The 46" LN-S4695D ($4,299 MSRP) and the 40" LN-S4095D ($3,499 MSRP) are available now.
96 Series
>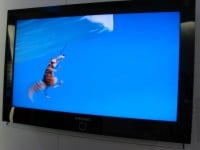 The premium 96 series ups the HDTV ante even further, as 40" and above models are digital cable ready for added flexibility in tuning digital cable signals. The 40", 46", and 52" models feature 1080p resolution for the best available high definition experience. All three models also feature USB 1.1 and IEEE1394 ports for easy connections to PCs, digital cameras, and other digital devices.
The 720p 32" model features the world's first eXtended Wide Color Gamut (XWCG) CCFL backlight, capable of displaying 100% of the NTSC color spectrum. Samsung is the first to bring this LCD technology to the U.S. market, allowing customers to see natural colors never before seen on an LCD TV.
All of the 96 Series HDTVs feature an expanded 6,000:1 dynamic contrast ratio and 178° wide viewing angle panels, ensuring that every seat in the house has a great view.
The 52" LN-S5296D ($5,499 MSRP) will be available in September 2006. The 46" LN-S4696D ($4,599 MSRP), the 40" LN-S4096D ($3,799 MSRP), and the 32" LN-S3296D ($2,299 MSRP) are available now. For more information, please visit www.samsung.com .