ReQuest iQ
Filed under: Media Centers/Servers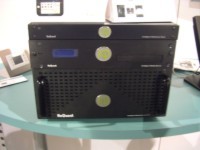 ReQuest unveiled a new solution for multiroom audio. ReQuest's iQ System, the first multiroom solution to be based on music-server technology, promises true plug'n'play installation, audio playback to as many as eight independent zones, along with the ability to stream content to up to eight more zones via a wired or wireless home network. The iQ System debuts with three key elements: The hard-disk-based iQ Intelligent Media Server, the 16-channel iQ Intelligent Multiroom Amplifier, and the modular iQ Intelligent Multiroom Tuner, as well as touchscreen, touchpanel, and wireless controller/displays. Additional models and components will join the system later this year and in the first quarter of 2007.
The iQ Intelligent Media Server
>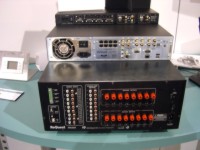 The heart and brain of the new multiroom audio system, derived from ReQuest's award-winning musicserver hardware and software technologies, will be offered in three initial configurations with capacities of 250, 500, or 800 uncompressed CDs-or as much as 8,500 hours of no-repeat music via data-compressed coded formats. With ReQuest's substantial processing power and powerful software already on board, the
Intelligent Media Server eliminates the costly and confusing custom programming imposed by most multiroom systems in favor of setup that is virtually plug'n'play.. Eight-source/eight-zone selection and routing deliver independent command of source, volume, bass, and treble for each zone, and any zone (or all) can choose among four fully independent stereo streams of hard-disk-based CD/music playback. Of course, the iQ Multiroom Tuner can also be routed to any or all zones. For example, the children in a home might stream music to their computers while family members in the kitchen listen to jazz through in-ceiling speakers and rock music in the game room.
The iQ Intelligent Multiroom Tuner
>
An important external music source will be the iQ Intelligent Multiroom Tuner, a configurable modular radio tuner incorporating AM, FM, and XM-satellite reception. The Intelligent Tuner's plug'n'play interface delivers full metadata display of station frequency, call letters, and artist/song/channel info from sat-radio streams on controller screens throughout the system.
The iQ Intelligent Multiroom Amplifier
> The iQ Intelligent Multiroom Amplifier is a 16x80-watts design (84Ω) able to power eight stereo or 16 mono zones (or any mixture) at very high quality. The amplifier incorporates trigger-activated muting for doorbell/paging systems; RS-232 control for remote monitoring of via ReQuest's ARQLink Pro communications system reporting individualized thermal, overload, DC and short-circuit protection for all zones.
Options, Options, Options
>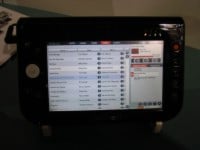 Three controller options are available for the iQ System: an in-wall, 3-inch full-color display touchpanel; a 12-inch tabletop color touchscreen controller; and/or a wireless tablet with a 7-inch screen. All deliver the intuitive command of the acclaimed AudioReQuest operating system, with flexible access to browsing, searching, and managing the most extensive music collections. The music server-based architecture also incorporates the full power of ReQuest's NetSync technology allowing synchronization of music collections with an additional iQ System in a second home anywhere in the world. Equipped with ReQuest's version 3.0 software, NetSync for iTunes provides the most seamless integration with iTunes available.
The new ReQuest iQ Intelligent Music System offers virtually plug' n' play configuration, and its built-in webserver allows setup or system changes to be performed from any location worldwide. What's more, the system can stream music to any Internet-connected PC or Mac, extending the music library to an extra bedroom lacking standalone speakers-or to an office or hotelroom across town or around the world
Availability: November 2006 Suggested Retail Price: Expected to be under $10,000 for the initial system configuration including Media Server, Amplifier, and touchpanels.
For more information about ReQuest, visit www.request.com .