PSB Custom Sound Inwall Speakers
PSB Custom Sound Inwall Speakers
Filed under: Loudspeakers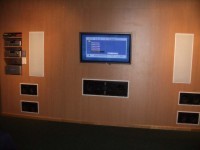 PSB Loudspeakers put on an impressive demo in a small self contained area of their booth. They integrated their inwall speaker and subwoofer products into a false wall and had NAD Master Series electronics powering the entire setup.
The system consisted of four CWS8 dual 8" subwoofers and three CW800e matching LCR's, along with CW383 surround speakers. All speakers were intregrated into virtual walls.
Model: Price: Description:
CW800e $2749/ea 3 way inwall LCR
CWS8 $799/ea dual 8" inwall subwoofer
CWA-1 $699/ea inwall subwoofer amp
CW383 $899/ea inwall speaker system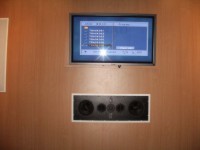 What initially lured me into the demo was they evidently knew of my fondness of Rush. Tom Sawyer live on DVD in surround sound pulled me into the room and I couldn't help to watch and listen in awe.
Unfortunately that didn't last too long as the switched over to movies. They played a particularly rather graphic but memorable scene in Open Range, starring Robert Duvall and Kevin Costner where they portrayed gunslingers taking arms against corrupt lawmen. The shootout between the good and bad guys contained some impressive surround sound effects. You could hear the shells from the bullets hit the ground and feel the power of the buckshot from Robert Duvall's shotgun. Not bad for a side demo room that was partly open to the rest of the showfloor.
The system certainly showed potential, as it should considering its rather extravagant pricing.
For more information, visit: http://www.psbspeakers.com