Polk Audio SC Series In-Wall and In-Ceiling Speakers
Polk Audio SC Series In-Wall and In-Ceiling Speakers
Filed under: Loudspeakers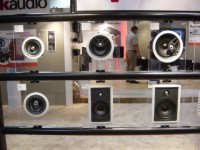 Polk Audio displayed a new series of flush mount speakers designed specifically for Multi Room Audio Video (MRAV) installing dealers. The new products were designed with input from custom integrators across the country to meet their unique needs.
The series consists of six models: four round in-ceiling (including a single speaker stereo model) and two rectangular in-wall models. All models use the same rust-proof grilles and hardware found in the higher priced TCi and LCi models, making them ideal for bathroom, sauna and under-eaves outdoor applications. All-new drivers, pivoting tweeters and crossovers make SCi the best sounding flush-mount products ever offered by Polk Audio in this price range.
Pricing is as follows:
SC50 - 5 ¼" Ceiling Coax - $99.95 ea.
>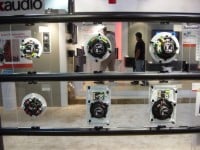 SC60 - 6 ½" Ceiling 2 way - $109.95 ea.
> SC80 - 8" Ceiling 2 way - $164.95 ea.
SC65 - 6 ½" Wall 2-way - $189.95 ea.
> SC85 - 8" Wall 2 way - $214.95 ea.
SC6s - 6 ½" Dual Input single speaker stereo - $189.95 ea.
For more information please visit www.polkaudio.com .