Pioneer Elite Plasmas with Built-In Networking
Pioneer Elite Plasmas with Built-In Networking
Filed under: TVs and Displays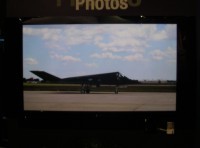 Pioneer introduced three Elite PureVision plasma televisions today including the new 42" PRO-940HD, 50" PRO-1140HD and 60" PRO-1540HD. Newly designed glass and the First Surface PRO Color Filter improve picture contrast and provide greater detail in darker scenes, resulting in a purer more accurate picture on screen. A Redesigned Deep Encased Cell Structure and improved red and blue phosphor technology improve overall brightness, while a Crystal Emissive Layer bonded directly to the plasma glass is responsible for improved panel efficiency and better contrast.
The new Elite models are the first Pioneer plasmas to incorporate an exclusive home networking program, Home Media Gallery, that easily connects to an existing home network via Ethernet or USB. This feature provides users direct access to movies, music and photos stored on a networked PC or any other DLNA compliant device for immediate viewing on the plasma in stunning HD quality.
For ease of use, Pioneer plasmas offer TV Guide OnScreen electronic program guides with eight days of programming. The televisions have dual standard definition (NTSC) and a single high definition (ATSC) tuner built in. They are Digital Cable Ready (DCR) and include a CableCARD slot for standard and high definition broadcasts. Dual independent HDMI connectivity rounds off a stellar host of standard input and output options, for seamless connection to practically any source or signal.
Pioneer Elite televisions offer the option of ISF calibration. This feature allows consumers to have a trained professional finely tune their plasma, adjusting color, brightness and contrast all to the specific tastes of the owner and the room in which it resides. Settings include two additional viewing modes for both day and night viewing.
A fully integrated one-body design on the 42" plasma and side-mounted, detachable speakers on the 50" and 60" televisions use SRS(WOW) technology, which includes SRS Surround, TruBass(R) and Focus for superior audio quality. SRS (WOW) offers a trio of surround sound modes and include an additional sub-woofer connection.
The full Pioneer line of Elite plasmas (PRO-940HD, PRO-1140HD and PRO-1540HD) are now available and shipping for suggested prices of $4,000, $5,500 and $8,000, respectively.
For more information please visit http://www.pioneerelectronics.com.