Panasonic Blu-Ray Player
Filed under: DVD/HD-DVD Players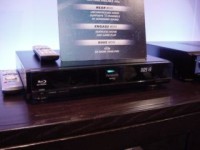 Today at the CEDIA show Panasonic had their first Blu-ray player (the DMP-BD10) on display delivering gorgeous images on a 60" 1080p plasma display. The player provides native 1080p output through HDMI. In addition the DMP-BD10 incorporates a 296MHz, 14bit Video D/A Converter that provides high quality 4x oversampling for 1080i/720p output. Noise shaping video processing shifts the noise component to an unused band to further boost the signal-to-noise ratio. The player is also backward compatible, capable of playing a variety of optical discs including DVDs and CDs and up-converts video playback from DVDs to 1080P, by using HDMI.
The MSRP is $1299.95. Shipping date TBA.
For more information visit www.panasonic.com .