NHT Power2 Amplifier
Filed under: Amplifiers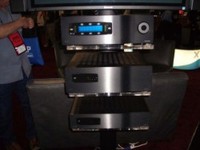 The new Power2 amplifier is a two-channel, two rack space alternative for end-users who prefer a traditional stereo experience, while giving users of NHT's Controller and Power5 (five-channel amplifier) the option to upgrade to a 7.1 NHT system.
The 200 Watt-per-channel Power2 Class D power amplifier is designed for both powerful output and super high operating efficiency that results in a cooler, faster amplifier than most comparably priced products. When interfaced with the Controller preamp/processor via the NHTBus, each channel can be individually controlled and monitored for operational status with virtually no user interaction required.
In a nod to current owners of its Power5 amplifier, NHT includes two NHTBus ports on the Power2, allowing it to communicate with both the previous amp and Controller eliminating the need for an external Ethernet hub.
The Power2 has a MSRP of $1,200 and should ship by the end of September. For more information, visit http://www.nhthifi.com .