NAD Masters Series M3 Dual Mono Integrated Amp
NAD Masters Series M3 Dual Mono Integrated Amp
Filed under: Amplifiers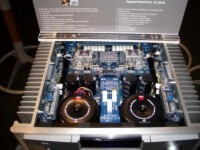 The NAD M3 Dual Mono Integrated Amplifier features two 180 watt channels, internal switching for two pairs of speakers and tone controls as well as a second Zone 2 output with independent commands and even its own remote control.
Front panel controls allow for direct access of all features as well. Performance features include a precision volume attenuator with 0.5dB steps and a range of 87.5db, a remote balance control with 0.5dB steps, and a Mode control which allows stereo, left only, right only and mono settings. There are also a second set of preamp outputs and a switchable high-pass filter for the internal amplifier, to allow easy implementation of any active subwoofer or for bi-amplification.
M3 Dual Mono Integrated Amplifier Features
180 watts X 2, 10Hz - 20kHz, with 0.03THD, both channels driven into 8 or 4 Ohms
Dynamic power of 280 watts at 8 Ohms, 480 watts at 4 Ohms, and 785 watts at 2 Ohms
PowerDrive
Dual stage high current/high voltage power supply
Dual Mono topology
Twin NAD Custom-Made "Holmgren" Toroidal transformer
Ultra precise multi-stage electronic volume control using discreet resistors
7 inputs, including 1 balanced XLR
Tape/Zone 2 output (independent source selection, no volume control)
Speakers A B with custom 5 way binding posts
Biamp mode with selectable 40, 60, 80, 100 Hz crossover frequency on Pre Out 1
Powered subwoofer
Main Amp input
Remote Bass and Treble controls with Spectral Tilt option
Remote Balance control with 0.5 dB steps
Selectable Mono, Left, Right, and Stereo options
RS-232 interface for advanced custom installations
12V Trigger for advanced control options, 1 Out
3.5mm IR Control jacks, 1 In and 2 Out
Detachable AC cord
M3 System Remote Control
ZR 3 second zone remote
The M3 has a MSRP of $2799. For more information visit www.nadelectronics.com .