NAD Masters Series M25 7-Channel Amplifier
NAD Masters Series M25 7-Channel Amplifier
Filed under: Amplifiers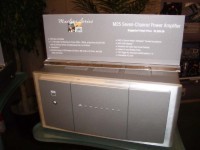 The THX Ultra 2 certified M25 is rated at 160-watts per channel with a rated distortion of 0.03 (proclaimed All Channels Driven (ACD) simultaneously, from 20Hz to 20kHz.)
NAD claims the M25 can deliver its full-rated power, free from distortion for hours on end. Custom designed heat sinks and temperature regulated, variable speed cooling fans work to keep the M25 running cool under the most severe operating conditions.
The M25 is actually made up of seven individual mono block amplifiers with each channel using a balanced junction FET input stage to eliminate cross-talk, resulting in exceptionally low levels of noise and distortion. Additionally, NAD employs a unique electronic ground isolation circuit to prevent ground loop noise in the system-a common problem with many complex multi-channel systems.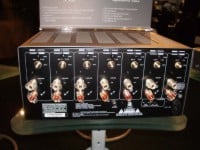 NAD's proprietary PowerDrive circuitry measures each channel's dynamic impedance individually and computes the optimum power supply voltage required to drive the output stage for maximum power and efficiency.M25 7-Channel Amplifier Features
THX Ultra 2 Certified
7 X 160 watts Full Disclosure Power, 20Hz - 20kHz, at less than 0.03THD with all channels driven simultaneously into 8/4 Ohms
PowerDrive(tm)
Dynamic power of 220 watts at 8 Ohms, 385 watts at 4 Ohms, and 485 watts at 2 Ohms
NAD's Custom-Made "Holmgren" transformer
NAD Soft Clipping(tm)
Precision low noise Input Level Controls
Custom 5 way Binding Post
12V Trigger for advanced control options, 1 in
Detachable AC cord
The MSRP for the M25 is $3000. For more information visit www.nadelectronics.com .
Subjective Impressions:
> All of the Masters Series products on display were beautifully crafted and commanded respect. It was obvious by the large power supply under the hood and tons of heatsink area that this amplifier is a true powerhouse.