NAD Masters Series M15 Surround Sound Preamp
NAD Masters Series M15 Surround Sound Preamp
Filed under: Receivers/Processors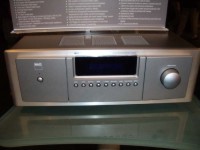 The Masters Series M15 Surround Sound Preamplifier features innovative circuit design, proprietary operating and decoding software and premium quality parts. The M15 offers the latest in digital video connections with two HDMI inputs making it a practical choice for high definition viewing. And the M15 includes the Masters Series HTRM (Home Theater Remote-Masters Series). Not only will the HTRM learn the command for any component, it is easy to use and navigate.
M15 Surround Sound Preamplifier features:
THX Ultra 2 Certified
6 AV Inputs with Composite and S-Video
3 HD Component Video Inputs
4 Coax and 4 Optical Digital inputs
4 Analog Stereo Inputs
Tape Monitor
7.1 Direct Analog Input
Dolby Digital EX, ProLogic IIx (movies and music), DTS ES, DTS 96/24, Neo:6, THX EX, THX Cinema, THX Music, EARS, Enhanced Stereo, Stereo Bypass
Video upconversion; Composite and S-Video inputs available on Component Video output
HDMI connection - 2 inputs, 1 output
OSD available on Component Video output
OSD chip is completely bypassed when not selected
"Direct" Component Video output without OSD
Lip sync compensation - (option to 100mS)
Flexible Bass Management including individual crossover frequencies for Front, Center, and Surround speakers
Digital domain tone controls with center channel "dialog" control
RS-232 interface for advanced custom installations
12V Triggers for advanced control options, 1 In and 3 Out
3.5mm IR Control jacks, 1 In and 2 Out
Second zone AV output with zone OSD available
Four dual differential 24 bit, 192 kHz DACs
Dynamic Headroom Scaling for optimum resolution and S/N ratio for all program and decoding combinations
Linear Power Supply with custom Toroidal transformer with proprietary shielding to eliminate EMF leakage
Switched AC Outlet
Detachable AC cord
8 Device HTR M Illuminated Learning Remote control with LCD display
ZR 2 Second Zone Remote
MSRP $3000
For more information visit www.nadelectronics.com .