Mondo Media Server DM7000
Mondo Media Server DM7000
Filed under: Media Centers/Servers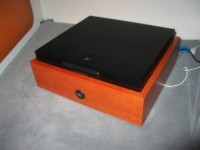 Mondo's DM7000 media server is based on the Intel Pentium D945 Dual Core Processor running Microsoft Windows XP Media Center, and has a maximum hard drive capacity of 1.5 TB (1500 GB).
Video processing includes 720p upscaling DVD player, direct pixel mapping, and sharpness enhancing software.
But the thing that sets this media server apart is the built-in digital amplifier. The amp features All Digital Audio Processing (ADAP), 800 w, 8-channel Class D Digital amp, digital USB interface, digital crossover, and T.H.D. (rated power at 20Hz-20kHz, 6 Ohms) < 0.1%.
The Mondo DM7000 has a MSRP of $6499.