Middle Atlantic Thermal Solutions
Middle Atlantic Thermal Solutions
Filed under: Furniture and Mounts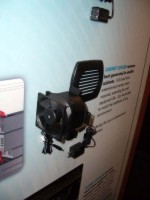 Is your equipment in heat? No problem. Middle Atlantic Component Coolers are the answer. Whether 1 fan pumping 8 CFM will do the job or piggybacking 3 fans per power supply at 8 CFM per fan, you can be assured cooling running for your equipment. Best of all the fans run very quite at 19dB for 1 fan or 24dB for 3 fans.
If that isn't enough cooling for you, Middle Atlantic offers integrated fan tops for their custom rack spaces which include 4 fans running at 200 CFM.
You can do it intelligently by adding their thermal sensors so the fans only come on when needed most.
Their new Closet Cooler removes heat generated by components in equipment racks located in closets. It has a 50CFM rating with a meager 25dB SPL noise floor. Best of all, you can hide the fans with their snazzy vent covers to seamlessly blend into the wall and room décor.
For more information, visit: http://www.middleatlantic.com
>