Marantz Home Theater Receivers Geared to Custom Installers
Marantz Home Theater Receivers Geared to Custom Installers
Filed under: Receivers/Processors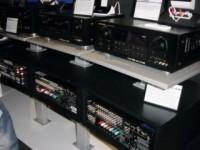 Marantz America was showcasing its full line of advanced home theater receivers at the CEDIA Expo this week, with models geared toward every consumer and custom installation need. Marantz demonstrated four new models, including the SR8001 (SRP: $1,999.99), SR7001 (SRP: $1,399.99), SR5001 (SRP: $749.99), and SR4001 (SRP: $549.99). In addition, they also demonstrated their innovative DAvED system (Model ZR6001SP), an affordable and easy-to-use multi-room audio delivery solution comprised of the ZR6001 Audio/Video receiver and the ZC4001 Client. The company's 2-channel SR4021 Stereo Receiver (SRP: $429.99), which offers custom installers a convenient way to provide customers with a secondary home entertainment zone, was also on display.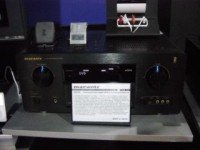 All Marantz receivers, from traditional home theater surround sound models to advanced multi-zone distribution devices, are designed to ensure compatibility with today's most advanced source components. All the new receivers feature a shallower chassis design (under 16" deep) for easy integration into multi-component systems. For enhanced performance capabilities in a variety of home entertainment system configurations, all new receivers feature HDMI (High Definition Multimedia Interface) switching, as well as HDMI input/output connectivity. All receivers with the exception of the SR4001 also feature RS-232 ports. In addition, all feature HD component video switching, component or S-video upconversion, 32-bit DSP processing and 192kHz/24-bit digital/audio converters for all channels. For additional flexibility and convenience, all models also feature Dolby Pro Logic IIx capability, surround-sound headphone processing, front panel menu control and home theater processing (THX or HTEQ). Other convenience features of many models that will appeal particularly to custom installers are DC Trigger outputs, IR Flasher input, detachable power cords and lead-free construction. For additional home entertainment value, Models SR5001, SR7001 and SR8001 all feature XM Satellite Radio functionality.
The new Marantz SR8001 replaces the popular SR8500 and exemplifies the performance and convenience capabilities that the new line provides. In addition to its HDMI (V1.2) switching, the SR8001 features upconversion to HDMI with 480i/480p converter, with time-based correction, as well as assignable dual component outputs, two DC trigger outputs. Both the SR8001 and SR7001 feature four HDMI inputs, and the SR8001 includes two HDMI outputs as well. The SR8001's massive Toroidal Transformer provides 125 watts of power output.
Both the SR8001 and SR7001 receivers feature an advanced calibration technology called MultEQXT™ from Audyssey Laboratories that maximizes room acoustics for multiple listeners, creating an optimized sound field and compensating for speaker and room capabilities to provide a "sweet spot" for every listener in the room.
The 7.1-channel SR5001 features HDMI (V1.1) switching (2in/1out) as well as dual component outputs and upconversion capability to component video. A multi-room receiver, the SR5600 provides 2nd zone audio output capability (individual source), IR Flasher input, DC trigger output, an RS232 port, and is is XM-ready with discrete IR commands.
The SR4021 Stereo Receiver (SRP: $429.99), which replaces the popular SR4320, is designed to serve as a high-performance stereo solution or secondary zone receiver. It offers ample power, full A/V switching, and a host of other custom installer-friendly features such as direct IR input, triple IR code sets, four video inouts, and a powerful 80 watt per channel amplifier.
The ZR6001 features 7 channels of discrete amplification, HD component video switching, component or S-video upconversion, 32-bit DSP processing and 192kHz/24-bit digital/audio converters for all channels. It delivers 90 watts of pure power into each of its seven main channels. In addition, Marantz' new DAvED technology means owners of the ZR6001 can not only use their receiver as the centerpiece of their main home entertainment system, but they can also enjoy virtually wireless audio transmission to any room in the house by just plugging it into any wall socket and having the audio signals transmitted directly to one or more ZC4001 Clients.
Additional information is available at www.marantz.com .