Marantz Docking Station for iPod
Marantz Docking Station for iPod
Filed under: Receivers/Processors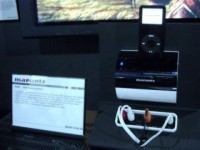 I must have seen more than a dozen docking stations for iPods on the CEDIA Expo floor today. But what sets the IS201 docking station apart from the crowd is it's ability to double as an IR receiver/repeater for the a/v receiver.
The IS201 is an advanced, highly flexible dedicated iPod dock compatible with all types of home entertainment system - from high-end A/V separates systems, to compact 'cinema-in-a-box' systems to simple stereo and basic TV configurations. Featuring an aesthetically pleasing, gently rounded design, the IS201 generates its own onscreen command and control display and provides custom installers and consumers with a flexible and convenient solution for easily integrating iPods into larger home entertainment systems. It offers full compatibility with virtually every iPod available today. For total convenience, the IS201 comes with its own dedicated remote control and can also be controlled via Marantz' learning remote.
The IS201 is packed with features and capabilities geared toward the professional custom installer. To alleviate 'cable clutter,' the IS201 features a connection case that is separate from its cradle, and for total installation flexibility, the cradle may be either table- or wall-mounted. For total integratability in home entertainment systems, multi-connectivity options include a D-Bus RC-5 remote in/out; IR Flasher in (RX-7001); RS-232 terminal; S-Video out; and stereo audio out. The unit also features a built-in infra-red (IR) receiver so it can be used as an IR repeater (IR-92 successor) for multi-room or custom installations as the main point of control when employing the RC-5 remote data output.
The Marantz IS201 Universal iPod Dock is now shipping at a suggested retail price of $199.99.
Additional information is available at www.marantz.com .