Klipsch RW-5802 In-Wall Subwoofer with Dedicated Amp
Klipsch RW-5802 In-Wall Subwoofer with Dedicated Amp
Filed under: Subwoofers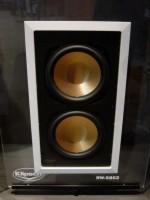 In response to installer demand for a powerful subwoofer system that delivers deep-driving bass without taking up valuable floor space, Klipsch has introduced its new RW-5802 in-wall subwoofer with matching rack mountable amplifier.
Fitting standard 2- by 4-inch construction, the easy-to-install RW-5802 in-wall subwoofer can accommodate any new or existing structure with a minimum 0.5-inch dry wall surface. Because it features an MDF baffle with a reinforced composite sealed enclosure, this high-powered, passive module subwoofer provides guaranteed performance and minimizes sound transfer into adjacent rooms.
The enclosure houses dual 8-inch long-throw woofers. These exclusive drivers feature stiff, well-damped Cerametallic cones, a specially treated aluminum that has been anodized, or electrochemically transformed into ceramic on both outer surfaces. Second only to diamond in strength, this ceramic compound allows the woofers to move at high speeds without blurring the sound like conventional designs.
While the dedicated RSA-500 subwoofer amplifier was primarily designed for use with the RW-5802, it also features custom settings for Klipsch's IC-8T-SW in-ceiling subwoofer and AW-800-SW subwoofer. This high-powered device can drive up to two of any of these subwoofers and delivers 300 watts into an 8-ohm load (one subwoofer module) and 500 watts into a 4-ohm load (one subwoofer module).
To keep end users from inadvertently tampering with performance levels, the majority of the RSA-500's controls are housed on its rear panel. The fuse is also included on the back for quick and easy replacement. A detachable IEC power cord allows for the simple removal and reinstallation of the entire amplifier unit. The RSA-500 was also designed to "play nice" by offering standard input/output connectivity that will support any type of system.
While the RW-5802 and RSA-500 are sold separately, they must be used in conjunction with one another. Available through the residential contracting channel, the RW-5802 subwoofer will retail for $500 each (U.S. MSRP) and the RSA-500 amplifier will retail for $750 each (U.S. MSRP).
For more information, please visit http://www.klipsch.com .