HiVi Powered Multimedia Speakers
HiVi Powered Multimedia Speakers
Filed under: Loudspeakers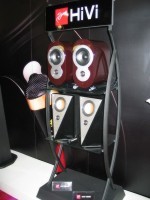 HiVi showcased two powered desktop multimedia speaker systems at the CEDIA Expo. Both models were gorgeous, with very striking designs that would add a hi-end touch to any desktop. These monitors are heavy and have a fantastic form factor. The T200A's have a built-in (40W RMS) amplifier in each speaker - just connect it to a line level source and you are ready to go.
The T200A's have a contemporary design featuring a piano-black lacquer finish with minimum-reflection area genuine solid 6mm milled triangle aluminum driver panels. Solid stainless pegs hold the removable black cloth grills.
Also displayed was the S200A system, a stylish and heavy speaker system that looks deceptively expensive. With a smooth, rounded shape and dark piano laquer finish, the cabinets employ 2 way vented box designs.
In the back of the HiVi S200A main speaker, there is a power input connector, power switch, RCA signal input, professional balance input terminal and a pair of high power
secondary box output connectors. The inside features an amplifier using an NE5532 first level chip and LM 3886 last level chip. Power output can reach more than 60w. The S200A also uses imported Tantalum capacitors and metal membrane resistors. The drivers are completely video shielded.
Although pricing and availability were not yet firm, we were told to expect the T200A system to be around $500/pr and the S200A system to be around $300/pr. We are looking forward to reviewing these systems.
For more information please visit www.swanspeaker.com .