Escient Fireball FP-1 Music Manager with iPOD Dock
Escient Fireball FP-1 Music Manager with iPOD Dock
Filed under: Media Centers/Servers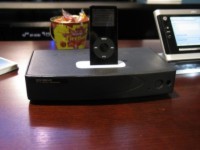 Escient adds its feature-packed FireBall FP-1 Music Manager with universal dock for iPod. Te FP-1 allows the integration of iPod music into any home audio system. The FP-1 is also a digital networked music player allowing streaming music from any FireBall music server or from a PC/Mac using the free FireBall-PC music server software. The built-in networking features of the FP-1 even allow other FireBalls to access, browse, and play all of your iPod music including Apple FairPlay protected music purchased from the iTunes Music Store.
Fireball FP-1 Offers Unique Features and Capabilities
> The unique ability of the FireBall FP-1 to integrate your entire music collection into one on-screen user interface and the ability to access the rest of your music collection when the iPod is removed from the dock, sets the FP-1 apart from all other iPod docking solutions. The FP-1 combines music from your iPod, networked PCMac, or FireBall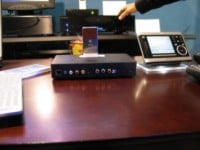 music server into one easy to use Music Guide, allowing you to browse, select, and play all of your digital content regardless of which networked device you store it on. The FP-1's built-in USB pass-though connector allows you to connect your iPod to your computer without the need for an additional dock. Additionally, the affordable FireBall FP-1 maintains all of the FireBall custom install features you've come to depend on including: two-way RS-232 and Ethernet control, discrete IR remote codes, multiple IR code banks, and built-in software updating over the Internet. The Fireball FP-1 will retail for $599. For more information please visit www.escient.com .