Dolby TrueHD Overview
Filed under: Miscellaneous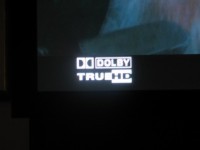 Dolby TrueHD, the next generation lossless technology, was developed for high-definition disc-based media. This technology delivers captivating audio that is bit-for-bit identical to the studio master, fully complementing the high-definition images that will define next generation optical discs. Together with high-definition video, Dolby TrueHD offers an unprecedented home theater experience that enables you to enjoy sound as stunning as the high-definition picture.
With support for up to eight discrete full-range channels, Dolby TrueHD delivers a more exciting audio experience-an enhanced sensation of actually being in the center of the action. Dolby TrueHD technology adds value and new levels of performance and quality to hardware products and software entertainment. Best of all, Dolby TrueHD is designed to offer playback compatibility through existing multichannel audio/video systems.
If it's Dolby TrueHD, it's always lossless. Unlike perceptual or lossy data reduction, lossless coding does not alter the final decoded signal in any way, but merely "packs" the audio data more efficiently into a smaller data rate for storage or transmission. The result is that the lossless version always sounds like the source.
Every Bit as Good as the Original
>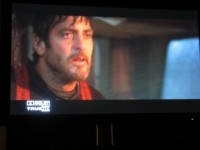 When we describe fantastic sound, we usually define the quality in terms of how closely the audio evokes the "real" or "original" performance. From the early days of recording, entertainment artists and engineers have been trying to re-create for the audience the feeling of actually being there. With Dolby TrueHD, the living room becomes the screening room, where the audience can enjoy studio-master-quality sound, delivered just as it was recorded.
Included as a standard audio feature in every HD DVD player and as an option in Blu-ray Disc players, Dolby TrueHD is expected to be available in many HD DVD and Blu-ray software releases, reproducing audio that is bit-for-bit identical to the highest-quality studio masters-straight from the mixing suite to your living room and beyond. Close your eyes and you'll believe you're in the recording studio or at a live concert. Home entertainment has never been like this.
Audio You Can Believe
>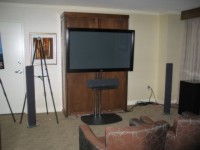 The astonishing level of audio performance designed for next-generation high-definition optical formats is achieved through higher bit rates (up to 18 Mbps) and more channels available to the audio engineer. With more channels to work with, the audio engineer can position sounds for a more realistic effect than ever before.
Dolby TrueHD is supported by HDMI, the new single-cable digital connection for high definition audio and video that eliminates the confusion and complexity of multiple connections. Current A/V receivers with HDMI (v.1.1) can receive up to eight channels of 24-bit/96 kHz audio, and next-generation HDMI (v.1.3) can carry Dolby TrueHD bitstreams. Players incorporating Dolby TrueHD technology can also provide a compatible pathway for traditional digital (S/PDIF) playback when enhanced with additional Dolby technologies. New metadata solutions provide added flexibility, user versatility, and interactivity in products equipped with Dolby TrueHD. Dolby TrueHD audio technology carries the confidence and legacy of Dolby's commitment to delivering quality solutions and dedicated support for licensees.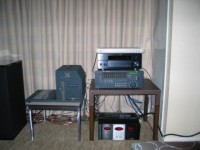 Designed for next-generation optical disc players and A/V receivers, Dolby TrueHD is fully compatible with existing multichannel audio systems.
We got a chance to take a listen to Dolby TrueHD in action. First we saw a clip from The Perfect Storm that had some good detail with water hitting a raincoat, talking, and background music all at the same time. We also saw a music clip of a jazz/funk band with a lot of funk bass. There were a ton of instruments and some pretty intense bass riffs that all sounded stunningly real. We look forward to hearing a lot more in the future.
Features
100 percent lossless coding technology. Up to 18 Mbps bit rate.
Support for up to eight discrete full-range channels of 24-bit/96 kHz audio.
Supported by HDMITM (v.1.3).
Metadata support for dialogue normalization and dynamic range control.
Selected as a mandatory audio feature for HD DVD and as an optional feature for Blu-ray Disc.
Benefits
Delivers audio that is bit-for-bit identical to the original studio master.
More discrete channels available than ever before for impeccable surround sound.
Dialogue normalization maintains the same volume level when you change to other Dolby Digital and Dolby TrueHD programming.
Dynamic range control (Night mode) enables you to customize audio playback to reduce peak volume levels (no loud surprises) while experiencing all the details in the soundtrack.
Compatible with the A/V receivers and home-theaters-in- a-box (HTIBs) of today. Compatible with the receivers of the future.
For more information please visit www.dolby.com .