Denon AVR-5805CI AV Receiver
Denon AVR-5805CI AV Receiver
Filed under: Receivers/Processors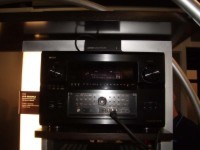 CI Training & Certification Programs
Following the overwhelming success of the product training and certification program for the AVR-5805 receiver, Denon has decided to expand upon this program and include it as part of the company's overall CI initiative. For example, Denon is partnering with Audyssey Laboratories and will be offering a DenonAudyssey Installer Certification Program in order to certify that custom installers can properly use the new Audyssey MultEQ Pro setup and calibration package starting with the new AVR-5805CI and continue with future Denon products that feature the Audyssey MultEQxt TM Room EQ and speaker calibration system.
>
Additional training initiatives will be added for new products and technologies as they are released in order to keep installers updated on features and key technologies. Following the release of the AVR-5805CI beginning this November, Denon will offer tiered certification programs for its dealers and installers for Denon products and also will include certification for the Audyssey MultEQ Pro setup program.
Some of the key feature upgrades for the new Denon AVR-5805CI model include:
· Audyssey MultEQ Pro upgrades with:
> 32 point calibration compared with the original 8 point calibration
Ability to edit post calibration response curves
> Option to use calibrated Audyssey mic and preamp kit

· HDMI Video upconversion

· HDMI 1080p pass through

· Expanded HDMI inputs

· XM Support
Estimated Availability December 2006 MSRP: $7,200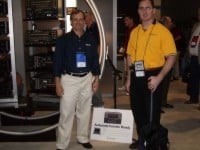 Additional Info on Audyssey Upgrades
> For $325 the Audyssey accessory kit includes a user manual, software, individually calibrated mic (with cal file that matching it to B & K reference mic), calibrated preamp, USB cable, mic stand, and 72' of XLR cables. Best of all it comes in a beautiful padded carry case that can be taken on-site for MultEQ Pro installations.
Audyssey built a pseudo anechoic chamber where they measure each mic that ships with the MultEQ Pro kit. They take that response curve and compare it to a reference B & K microphone (model #). They measure the mic response and invert it to ref B & K $7k reference mic to create a difference curve to correct the mic so it behaves just like B & K reference mic. The variance between mics is great enough to warrant them to be serialized (this is then uploaded into the software). Not only is the mic calibrated, but the preamplifier is also measured so that its consistency is maintained throughout the entire signal chain. These measures are critical, but necessary to achieve the precision needed for meaningful low frequency calibration.
For more information, visit: http://www.usa.denon.com/