Datacolor SpyderTV PRO
Filed under: Miscellaneous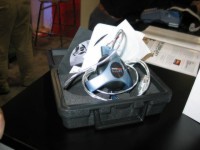 SpyderTV PRO is an advanced home theater display calibration system that precisely calibrates all of your front projectors, plasma, RPTV, LCD, LCoS, DLP, and CRT TVs. Using the SpyderTV colorimeter, wizard driven software, and a rich feature set, SpyderTV PRO is the right choice for home theater installers and high-end enthusiasts.
This great colorimeter/software bundle scientifically measures contrast, brightness, color, tint, color temperature presets and Cuts/Gains on your TV and helps you make the necessary adjustments to dramatically improve your picture quality. SpyderTV PRO also offers Spyder2 PRO - the professional's choice for computer monitor calibration. Spyder2 Pro is advanced monitor calibration software that delivers accurate on-screen color, true-to-life flesh tones, and flawless shadow detail and highlights for your CRT, LCD, and notebook displays. Pro-level features include multiple monitor calibration and matching, custom targeting, and curves manipulation. With the calibration of front projectors, increased reporting capabilities and BONUS computer monitor calibration software; SpyderTV PRO is designed to provide advanced users with a great display calibration solution for perfect viewing experience.
For more information please visit www.datacolor.com .