Calibre Vantage-HD Scaler
Calibre Vantage-HD Scaler
Filed under: Audio/Video Processors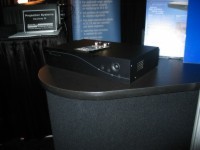 Calibre has introduced its Vantage-HD Home Theater video scaler and switcher, powered by the Silicon Optix Realta HQV video processing engine.
Realta HQV processing originates from Teranex's $60k broadcast and postproduction platforms. Teranex's software algorithms run on Realta's trillion-operations-per-second video engine to deliver a new standard for video quality called Hollywood Quality Video, or HQV.
Unlike any other video processor, Realta HQV is also fully software-programmable and upgradeable. The Realta HQV processor executes its video algorithms entirely in software. As new firmware is developed for Vantage-HD, consumers can simply download the upgrades from the Calibre website.
Vantage-HD is not just an image scaler, it is also a switcher. It features a very flexible range of inputs and outputs and is able to switch between different audio-visual sources without the need for a separate switcher. The switching capabilities are easily integrated into the system by way of an on screen menu, controlled by remote or by an RS-232 serial link for use with third-party control systems.
The base input configuration is 2x HDMI with support for up to 8-channel digital audio, HDCP capability and backward capability with DVI, 2x composite video and 2x component analog video for YpbPr or RGBS SD, ED or HD signals compatible with 480i (NTSC), 576i (PAL/SECAM), 480p, 576p, 720p and 1080i as well as 1080psf. Additional options include 2 x HDMI expansion board and an HD-SDI expansion board with single or dual port inputs, available during 2006.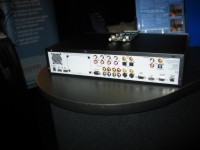 For HD material, Realta HQV features true 10-bit processing, automatic multi-cadence detection, and four-field per-pixel de-interlacing-the highest quality HD de-interlacing processing available today. Instead of discarding half the resolution, and just doubling the lines (a shortcut that many video processors take today), HQV processes all 2 million+ pixels in both odd and even fields of a 1080i signal preserving all the rich details in an HD scene. Also, HQV per-pixel, motion adaptive noise reduction cleans the random noise that can plague HD broadcasts.
Currently, given the scarcity of HD content, most broadcast HD programs are SD material up-converted to HD, often with Teranex equipment. Also, for years to come, much of the TV programming will continue to be delivered as 480i SD video. Going from 480i to 1080p video involves resizing an image up to six times.
For 480i-to-1080p conversion, Realta HQV employs the same algorithms used in Teranex's up-conversion equipment. The processing relies on a combination of powerful features such as multiple fields pixel-by-pixel analysis, 1024-tap scaler, HQV detail enhancement, and HQV reduction of random, block, and mosquito noise, to deliver SD broadcast TV and DVDs that approach HD quality.
Calibre's Vantage-HD Home Theater video scaler and switcher has an MSRP of $2,899 and is shipping now.
For further information visit www.calibreuk.com .