Boston Acoustics Subwoofers
Boston Acoustics Subwoofers
Filed under: Subwoofers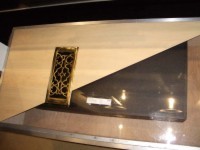 At the CEDIA Expo this week Boston displayed its new XB family of three high-performance powered subwoofers. All feature built-in amplifiers and most notably, all three are front-firing, front-ported and extremely easy to install. The three new subwoofers include the XB8 (MAP: $679), XB6 Subwoofer (MAP: $500) and Models XB4 (MAP: $400) and XB2 (MAP: $300).
Boston has voiced a new commitment to custom installers, which was evident in their built-in subwoofer, the Sub10F. It can be mounted under a floor, behind a wall, or under a floor riser. It has a 10" DCD copolymer woofer, and plays through a standard heating vent. It is designed to be used with Boston's SA1 subwoofer power amplifier.
For more information visit www.bostonacoustics.com .