Bang & Olufsen BeoSystem 3
Bang & Olufsen BeoSystem 3
Filed under: Miscellaneous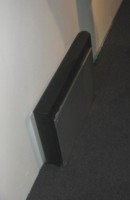 The new BeoSystem 3 functions as an intelligent "stage manager" which sets new standards in modularity, flexibility, superior picture and surround sound quality that will meet the consumer demands for both today and tomorrow. BeoSystem 3 will arrive in the United States, Canada and Mexico by September of 2006.
BeoSystem 3 is a home cinema master unit for plasma monitors, projector and projection screens, and all other peripheral units. The sound stage can be presented in 7.1 digital surround sound; it can be moved around with up to seven loudspeakers and two subwoofers to suit each of two viewing situations.
BeoSystem 3 offers modularity and customization on every parameter - connectivity, picture quality, and sound staging. Whether the incoming signal is terrestrial or by satellite, or whether the storage media is HDDVD or BluRay-DVD, all that can be seen is the high-definition picture quality.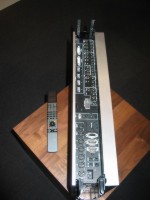 Taking picture quality to the next level
> Bang & Olufsen has always been at the forefront of picture quality with the VisionClear package of signal and picture optimizing technologies and automatic picture adjustment to viewing conditions. Now, from this very high base, Bang & Olufsen has taken the next step in picture quality. The biggest single factor is that BeoSystem 3 is built on an all-digital platform, and both analogue and digital signals are digitally optimized.
What makes this possible is that BeoSystem 3 can process 1 billion colors from the incoming signal. Previous generations of TV technology could only handle 16 million colors. New sensor technology means that ambient light in the room can be measured at much lower intensities, and the new Dynamic Contrast feature is what makes it possible to selectively monitor and enhance contrast. In addition, BeoSystem 3 is capable of recognizing the type and specification of the Bang & Olufsen monitor it's connected to, and various parameters are fine tuned to optimize picture quality.
Move the sound stage
>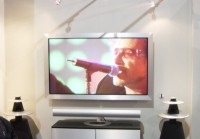 BeoSystem 3 can be connected to both a projector and a panel monitor at the same time. Often, the projection screen and plasma monitor are not placed on the same wall, and yet the sound stage must match the on-screen experience perfectly.
BeoSystem 3 makes this possible, with outlets for up to 12 loudspeakers and two subwoofers. Bang & Olufsen's PowerLink cable connections mean that all speaker ports are neutral. Simply plug in the loudspeakers, and program the sound stage for the particular screen setup for up to seven loudspeakers and two subwoofers for each viewing situation
This means it is possible to move a 5.1 digital surround sound stage from one part of the room to another, depending on your seating position and screen setup, simply by using the Beo4 remote control. Or BeoSystem 3 can stage a 7.1 channel surround sound experience, with the option of one or two subwoofers. The extra two channels are created at the rear to fill the "hole in the middle" that can be heard in very large rooms.
Technology with benefits
> BeoSystem 3 functions as a "hub" for all video-related sources and equipment, built on an all-digital platform, with a multitude of connectivity options that ensures as many peripheral units as may be required can be used. The design and construction offers a breakthrough for what could be a confusing array of connections and cables. All connections are made conveniently at the front and cleverly guided around the sides by the removable front cable cover.
For more information please visit www.bang-olufsen.com .