Auralex SonoSuede Room Treatment System
Auralex SonoSuede Room Treatment System
Filed under: Miscellaneous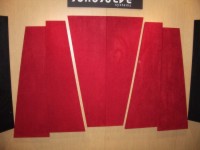 Auralex displayed their new affordable and beautifully crafted DIY room treatment kit which is suited specifically for home theater rooms where aesthetics and function are of equal importance.
Consisting of four 16"x48"x2" thick back-beveled panels meant to be used as corner mounted bass traps and eight trapezoidal-shaped square-edge panels 16"x48"x1" meant to be used for treating first reflections. One DIY room treatment kit consists of a total of 54 square feet of coverage, the SonoSuede HT System's distinctive design is a cost-effective solution offering a multitude of decorative options.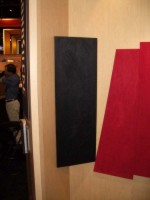 "As home theater audio and video technology continues to evolve, sound control solutions must continue to meet greater acoustical demands while concurrently maintaining aesthetic appeal," states Tracy Chandler , director of worldwide sales for Auralex . "The SonoSuede HT System's synthetic suede fabric provides the acoustical transparency and visual allure that are critical in today's home theater applications."
Priced at $1,199 suggested retail, the SonoSuede HT System is immediately available in the following stock color combinations: black/red; black/tan; and brown/tan. Other color combinations as well as individual panels are available as custom orders.
For more information, visit: http://auralexelite.com/