Aerial Acoustics System 1
Aerial Acoustics System 1
Filed under: Loudspeakers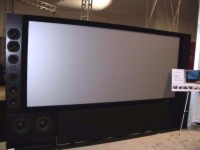 It seems like every high end loudspeaker company is going after a high WAF by designing a speaker system that blends seamlessly into a room's décor. The Aerial Acoustics System 1 is no exception. They take it to the next level by wrapping a high performance speaker array around the projector screen. The System 1 can accommodate screen sizes from 100" all the way to 135".
The System 1 consists of the following components:
S1 Column - features (4) 7" woofers, (2) 6" midranges and (1) 1" tweeter.
Frequency Response: 50Hz to 22kHz +-2dB ; 92dB Sensitivity
Price: $4,500/ea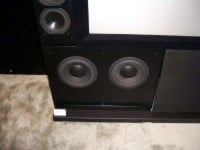 S1 Subwoofers & Amplifiers - features dual 10" Kevlar-Nomex cones 600watt all balanced amplifiers; flat frequency response down to 20Hz
Price: $5,000ea
The S1 column is offered in vertical versions for main channels and horizontal versions with properly aligned mid and tweeter drivers for optimal dispersion.
A typical 7.2 system with their WSR3 Dipole/Bipole switchable speakers for the side channels and LR3 direct radiators for the back channels along with a pair of S1 subwoofers and amplifiers runs around $32k. The folks at Aerial Acoustics claim an experienced installer can set an entire system up in just a few hours.
For more information, visit: http://www.aerialacoustics.com/