EHX 2005 Show Report Anaheim Convention Center, CA
EHX 2005 Show Report Anaheim Convention Center, CA
Filed under: Miscellaneous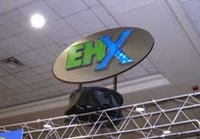 By Ray Adkins
> Date: 11/15/05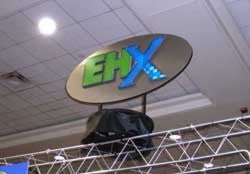 This years EHX Expo was filled with a myriad of plasma mounts and custom installation tools. The EHX Expo is really geared towards the Custom Integrator but as I walked the floor I was able to find a few products that really peaked my interest.
Syntax Olevia
Olevia displayed their new LT42 Hvi with integrated ATSC tuner this new 42-inch flat panel HDTV flat panel just won the Audio/Video award for best multi-room video display. The new LT42Hvi claims 1200:1 contrast ratio and has a suggested retail price of $3299. Upon viewing this set I could say that the image was truly awesome and worthy of the award.
Olevia also displayed their new LT37HVS with integrated ATSC tuner. This new 37-inch flat panel LCD display was equally impressive and at a retail price of just $1899 will surely find its way into many custom home theaters.
Impact Acoustics
I am happy to report our friends at Impact Acoustics have been very busy and showed several new innovative products at their booth. The first thing that caught my eye was a new HDMI switcher with I/R control. Yes I know there are several of these on the market but this one has a retail price of just $249. The switcher has 2 HDMI inputs and one HDMI output. The switcher is shipped with a basic credit card sized I/R remote. Word has it that a new model with more inputs will be available in the first or second quarter of next year.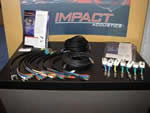 Impact Acoustics also showed their new Break-Apart cable system. The Break-Apart cable system is innovative and unique and is based on two different cables and a whole host of termination options. The installer simply chooses the cable either UXGA or five coax and then plugs in the a pigtail or wall plate of there choice.
Pigtails are available in HD-15, 5-BNC, 5 RCA, 3-RCA+svideo, 3 RCA components. The wall plates will install in a single gang box and are available in just about every configuration you can think of. The beauty of this system is that you can pull the wire and then change the end termination with a simple disconnect. Impact acoustics claims the wire and the terminations are good to about 150 feet without signal loss or degradation. I have been told that a HDMI version with built in HDMI amplifier will be available next year.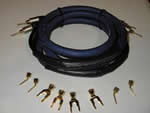 Impact Acoustics introduced the new Metora speaker cables these new cables have interchangeable terminations Pin straight or bent and spade simply screw on the termination you want. The cable looks and are built like a high end cables but prices start at a mere $20. This is typical of the Impact philosophy of high bang for the buck.
Visit Impact Acoustics for more information.
Furman Sound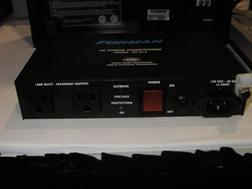 There were several manufacturers displaying power line conditioners at this year's EHX. One of these manufacturers, Furman has been manufacturing power conditioners in the Pro audio market for a very long time and is now entering the consumer market with a wide range of well-built products. One such product that caught my attention was the AC-215 remote line conditioner. This small unobtrusive line conditioner would be perfect for flat panel installations or font projection systems because you can mount it close to the display device or even place it on top of a ceiling mounted projector.
They also displayed their new Reference series power line conditioners. These new line conditioners are elegant, built like tanks and provide line conditioning, voltage stabilization and protection. A quick demonstration verified that these new line conditioners will reduce noise by a substantial amount.
Furman Sound Press Release
Furman Sound, Inc., the world leader in AC power conditioning, today announced that the company's ELITE-20 PF AC Power Conditioner is now shipping. The announcement was made by Dave Keller, Furman's Executive Vice President of Sales and Mark eting.
"We are pleased to announce that we are shipping our eagerly awaited ELITE-20 PF AC Power Conditioner," stated Mr. Keller. "This unit delivers performance approaching that of our flagship Reference Series at a fraction of the cost."
The ELITE-20 PF utilizes Furman's new Ultra-Linear Filtering to feed televisions, projectors, DVD players, amplifiers, and processors pristine AC power for unequaled audio and video clarity. This dramatically reduces noise, ensuring consistent peak operation regardless of load conditions or the time of day. Another critical feature of the ELITE-20 PF is the exclusive Series Multi-Stage Protection Plus featuring Extreme Voltage Shutdown. This virtually maintenance-free surge suppression system assures that the unit will provide the highest level of AC protection possible, without sacrificing itself even when the offending surge is severe.
Also employed in the ELITE-20 PF is Furman's unique Power Factor Correction technology. With this circuitry, power amplifiers are fed a highly filtered, extremely low-impedance supply of AC power with a massive current reservoir (55 amp peak charge). The net effect is as if the user's power amplifier virtually doubled in power and improved immeasurably in quality.
When employing the ELITE-20 PF, users will immediately notice that far clearer and stunningly focused sound and visual images are delivered from their systems. Video presentation will be crisp and colors true with greater gray and black scale definition, as well as noticeably improved depth and clarity. Sonic transients will be startlingly fast with bass fundamentals that shake foundations with their weight and visceral impact. Mid and high frequencies will bloom with sweet, non-glaring ease as imaging improves dramatically, all the while remaining true to the system's inherent virtues.
Furman's ELITE-20 PF is the company's first 20 Amp offering within its ELITE family of Linear Filtering AC Power Conditioning products. This family currently includes the ELITE-15 PF, ELITE-15 DM and the ELITE-15.
Furman Sound has been designing, developing, and manufacturing professional electronic products since 1974, and is the world leader in the power conditioning market. Since its inception as the industry's premiere manufacturer of power conditioning products for the professional music industry, Furman has maintained its place as the industry's undisputed innovative force and leader while, at the same time, stretching the bounds of technology to provide power purification solutions for a wide range of applications including sound reinforcement, audio/video recording, broadcasting, data processing, telecomm, and home theater. More information about Furman Sound is available at www.furmansound.com .
Inwalls Anyone?
In-Wall speakers were everywhere and for the most part they all started to look the same there were however a few unique stand out's among the masses.
Klipsch THX inwalls (left) Jamo K4 Inwalls (right)
Klipsch and Jamo Inwall Loudspeakers
Klipsch Technologies was displaying prototypes of their new THX in-wall and In-ceiling speakers. I was unable to obtain any specifications or firm pricing but I can tell you they look like they will likely blow your face off when called upon to do so.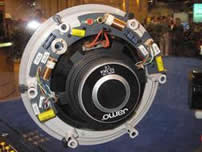 Jamo a Dutch based speaker manufacture recently acquired by Klipsch Technologies was displaying some incredible looking in-wall and in-ceiling speakers. The K4 line looked truly impressive featuring titanium tweeter and kevlar woofers.
MSRP prices range from $349pr to $649pr
The impressive looking Jamo 10.5K4 shown below is the top of the line in-ceiling speakers It is a 4-way speaker featuring pivoting tweeter and midrange and a massive 10" Kevlar woofer. Claimed frequency response is 28Hz-22khz the in-wall has a MSRP or $649pr. For more information visit www.jamo.com
JBL Loudspeakers
One Huge surprise and one I don't think has been reported on yet is the apparent re-emergence of high performance consumer loudspeakers from JBL. The new Project Array speakers looked absolutely gorgeous and they reminded me of the good old days when JBL was king of the speaker industry. The Project Array speakers will be available in large floor standing model, Intermediate floor standing and bookshelf as well as a matching center channel. Build quality and driver components appear to be first rate I spent a lot of time eyeballing these beauties.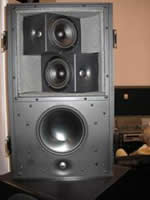 The Array is also available in an unfinished version for hidden custom installations
JBL also introduced a very high-end in-wall surround THX certified speaker. The S4-A multi-pole In-wall is designed for easy integration in new and retro installations fitting between studs 16 inches on center. The front baffle is completely removable and the upper half of the speaker can be rotated to 180 degrees for all surround applications.
The JBL representative could not confirm preliminary specifications or pricing but did indicate the speakers should be shipping early next year.
Boston Acoustics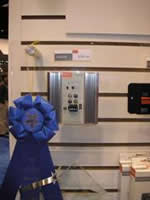 Recently acquired by D & M holdings Boston Acoustics won several awards at the 2005 EHX Including fist place award for there new LCAi220 Local control amplifier. The LCAi220 makes it simple to listen to your whole house audio system and local sources like TVs, PCs, MP3 players and any other source through your existing speakers. When a local source is turned on the LCAi220 automatically senses the current and connects the room speakers to that source. This little gem installs flat against your wall and has an elegant unobtrusive design The LCAi220 is shipping now and has a suggested MSRP of $229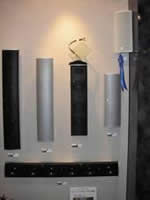 Boston Acoustics also won first place for their Bravo II on-wall speaker The Bravo II can be installed in many different configurations due to its wedge shaped housing This design makes it a perfect speaker for corner installations or where to ceiling meets the wall.
Boston Acoustics displayed many different sizes and types of on-wall speakers they all appeared to have very high build quality
Sonance Loudspeakers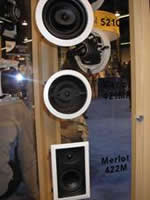 Sonance had a very large centrally located booth They were displaying their new mini in-wall speakers and their new outdoor all weather speakers. Starting price is about $249 and they are shipping now.
Delivering high-quality audio from a small footprint, Sonance displayed their new Quintette™ series of in-ceiling speakers - which are ideal for space-limited applications here at the Electronics House Expo.
"The Quintette satisfies our dealers' requests for a small footprint, high-output speaker," said Scott Sylvester, Sonance director of product strategy. "They're perfect for background music applications where a larger speaker just won't work."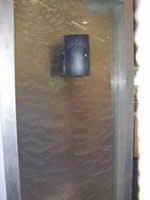 There are two Quintette speakers to choose from. Both the 522QR and the 521QR install into a 6-7/8" cutout, and both feature a 5-1/4" polypropylene cone woofer with a rubber surround that guarantees tight, low-distortion bass performance. The 522QR, features a pivoting ¾" cloth-domed tweeter, which can be pivoted to direct the sound for better coverage. For installations not needing a directed sound field, the 521QR's fixed 5/8" polycarbonate tweeter offers a more cost-effective alternative.
As with all Sonance in-wall and in-ceiling speakers, installation is designed to be fast and easy using the company's RotoLock® mounting system, and each speaker grill is paintable to allow the speakers to disappear into the décor.

Mitsubishi Front Projector
Working projectors and flat panel displays were few and far in-between at EHX 2005, but I did get a chance to view the new Mitsubishi HC3000U.
The projector uses new technology from Texas Instruments featuring DD_P3020 digital light processing and True Vision with Brilliant Color. This new processing yields higher brightness and more vivid colors by boosting mid-tone color levels.
Mitsubishi claims 4000:1 contrast ratio and 1000 ANSI. This is the first projector on the market to incorporate the new DLP technology and it would appear that Mitsubishi has made a bold move to capture the under $3,000 projector market with this new projector and technology.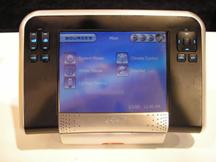 RTI Remote Controls
Many manufactures were displaying remote controls at EHX this year. RTI had a working proto type of there new T4 Universal Controller The new controller feature Integrated WiFi, 32bit 400Mhz processor, 32MB flash memory, stereo speakers, four, Ethernet and web browser built in and VGA LCD display This new controller slated to begin shipping January 2006 and has an approximate retail of $2499

>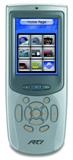 RTI won an EHX product of the year award for their T3 hand held color touch panel. "Remote Technologies was honored to have the T3 Universal System Controller singled out by Electronic House as a 2005 'Product of the Year,' " said Pete Baker, director of sales and marketing, RTI. "The T3 Controller is the result of years of research and of applying the feedback of installers who design complex home systems every day. The T3 gives custom installers and end users a powerful tool that creates easy control over all of the features of a complex home theater or virtually any home entertainment system."
The T3 Universal System Controller was selected by the editors of the EH Publishing's four magazines based outstanding features, technological innovation, reviews released throughout the year, product demos, installer feedback, and overall value.
The T3 features a 3.5 inch, brightly backlit touchscreen, capable of displaying high-resolution graphics, animations, and custom buttons. The touch-sensitive LCD display allows installers unmatched flexibility in designing an interface that provides users intuitive access of all the functions of the system with minimal operating instruction needed.
In addition to the LCD, there are 16 hard buttons that allow easy access to frequently used functions. The T3's touchscreen and tactile buttons are all fully programmable and macro-assignable, and allow installers to build an infinitely flexible and expandable control platform for any system in the home. A 32-bit, 200 MHz XScale® processor ensures quick, reliable response, and the remote's non-volatile flash memory allows storage of an expansive library of codes and commands, which remain in tact even when power is lost.
ZON
One of the coolest booths at EHX was ZON where they were displaying their new ZAC -30. This mini control amplifier uses an all-digital architecture with 30-watt digital stereo amps built in. The Euro style interface allows the user to select source adjust bass and treble and has an adjustable EQ The ZAC-30 connects to the ZON system with a single CAT 5 connection and has built in I/R receiver. Loudspeakers connect directly to the ZAC-30 for easy system installation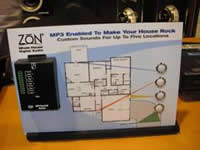 Another cool product at the ZON booth was the ZMP-3 doorbell module. The module allows the user to add their own custom created audio for doorbells, drive way sensors, motion detectors and other similar devices. The module plays one of five different audio files for five different devices the audio can be played from a split second to hours. The custom created files are downloaded into the module from a standard SD card the unit is plug and play.
Wrap Up
All in all in was another successful show for installers and manufacturers alike. While this is a more low key show than say CES or CEDIA, it really allows for good one on one interaction with manufacturers which you can't always get at the bigger, faster paced consumer oriented trade shows. We look forward to testing out some of these innovative products. The inwalls have the potential of delivering quality performance under space constraints, while the box speakers should satisfy the critical listening requirements of enthusiasts whom make no qualms about floorspace. The video/display options just keep getting better and more affordable each year and it's nice to see intelligent integration of them via interconnection and home automation to help deliver maximum performance and ease of use.