Cambridge Audio Azur 640H Music Server
Cambridge Audio Azur 640H Music Server
Filed under: Transports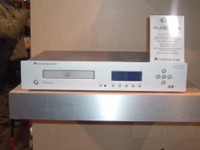 Cambridge Audio Azur 640H Music Server
MSRP: $1399
Cambridge Audio has managed to combine the best of both worlds to appease the audiophile and technocrats alike who desire to listen on a high capacity storage server. Best of all its price is within the realm of most consumers.
Key Features:
Audiophile quality CD player based on their acclaimed Azur 640C CD player
Wolfson WM8740 24/129kHz DAC
Store your entire music collection on its built in 160 GB hard drive
Share or stream music using your PC or Mac
Wi-Fi capability for multi room hifi system applications
Easy to use on screen interface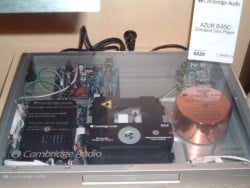 You can rip and store all of your CD's, even your Vinyl collection onto the built in 160 GB hard drive while choosing your desired compression level. Over 300 uncompressed CD's or over 3000 compressed CD's can be stored to form your own personal music library. You can than make music compilations of your favorite songs for usage in your car or remote audio systems. You can even playback music from your PC or Mac stored in programs such as i-Tunes or Windows Media player or other network devices via the 640H.
Streaming to and from other AudioFile based units in your home or even your PC via wired or wireless network technology using USB Wi-Fi adaptors. On board Net radio gives you access to stations across the world.
Full system access from the control panel or using a comprehensive on-screen display and remote control thru a Display via Composite, S-Video, and VGA OSD outputs are supported.