Denon AVR-5805 & AVR-4806 Firmware Update
Denon AVR-5805 & AVR-4806 Firmware Update
Filed under: Receivers & Processors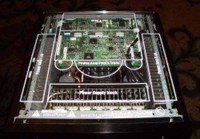 5805 firmware update will be available October 1st for the 5805 and the 4806. Customers will be able to purchase the upgrade (around $250) and install it themselves via the built-in RS232 or Ethernet ports on their Denon components. The upgrade will permit audio streaming from either an Escient FireBall or a Windows Media Player equipped PC. Once connected, the Denon receivers will have complete 'Command and Control' over either the FireBall or PC, via the on-screen display and Denon remote control. Users can even connect both an Escient FireBall system and a PC at the same time, with individual control functions. Additional features and functionality included in the firmware upgrade will be Internet radio access and control, as well as a web browser interface.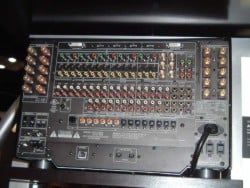 "One of the main reasons Denon engineers included the Ethernet port on these high-end receivers was to be able to offer our customers upgrades whenever possible," said Jeff Talmadge, Denon's Marketing Manager. "This firmware upgrade will let consumers enjoy the benefits of added interoperability and networking capability, enabling them not only listen to music stored on a PC and/or Escient FireBall system, but also to control the playback options via their Denon remote control and on-screen menu. The addition of Internet radio access, a web browser setup and control function, as well as 3rd party controller connectivity, are all part of our goal to provide the most advanced, easy-to-use options in home entertainment networking, and they also reflect the close relationship we enjoy with our fellow D & M company Escient, with whom we work to create technology-sharing products to benefit our mutual customers."
Denon demoed how the 5805's setting could be controlled over a LAN network. Owners can access the 5805 from a web browser and change the source and settings, all in real time. With a wireless connection, this gives the home user with a laptop unprecedented the ability to control the receiver from anywhere in the house. For the professional installer, this gives them the ability to make adjustments to a client's system without having to get in front of the unit. For more information, visit http://www.denon.com .