Best of Show: Two-Channel Performance
Best of Show: Two-Channel Performance
Filed under: Editorials
It's no secret that we are fans of RBH Sound loudspeakers. However, we are so for good reason. They make reasonably affordable loudspeakers that sound good, and measure well. With that, we eagerly met them at Alexis Park to hear their demo of their latest Signature Series Flagship known as the T-2 System . Note that we currently have this system in our Premier Reference System under review.
The RBH Sound Signature T-2 System at Alexis Park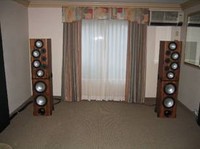 Finished in Rosewood, these loudspeakers made quite an impression from a distance due to their sheer size, and volume of multiple shiny aluminum drivers. However, due to the WAF (Wife Acceptance Factor) fitting these behemoths into a typical room décor may prove challenging. RBH Sound also offers a grander version known as the T-3 which stacks another set of bass modules on top of the T-1 Satellites for a total of eight 10" subwoofers that would surely please any bass lunatic, like myself for example.
Electronics furnished by Sim Audio
A friendly RBH Sound Employee/Bouncer ready to greet you if you like the system, or escort you out if you don't :-)
Over the past month or so, I have become quite accustomed to how the RBH Sound T-2 System sounds integrated into our premier reference system. In fact, we even brought familiar music material to demo and compare. The disc we brought along was John Scofield & Pat Metheny " I Can See Your House from Here ". Although this is a close mic recording, I love the way Pat Metheny's guitar sounds on these loudspeakers in my system. The T-2 throws off a huge soundstage, unrivaled in my experience, while it also portrays a realistic stereo image from a broad listening area.
Our initial observations when entering the room were as follows:
Room bare and desolate, probably craving additional room treatment and a little décor. We would have preferred to see the curtains behind the loudspeakers closed, and perhaps more sound treatment on that wall as well as the first reflection points on the side walls and ceiling.
Moderately long run of Esoteric Speaker Cables between amps and loudspeakers. (The Tara Labs cables used were of loosely dangling independent conductors). I am not a fan of this type of cable construction due to its inherently increased inductance as the conductor spacing increases. ( See Calculating Cable Inductance ) I would have rather seen quality 10 AWG wire used here, or esoteric cables with low inductance and resistance and moderately controlled capacitance with closely spaced conductors. Given the fact that these loudspeakers maintain rather low impedance at high frequencies, low resistance cables here are a must!
Couch seemed rather close to the loudspeakers. In my experience, these loudspeakers sound best if the listener is at about 12 feet away from them though the designer Shane Rich claims 10 feet should be good enough. Hey who am I to argue with the designer?
According to Shane:
"I specifically positioned the couch and sound panels in the room to accommodate a "two row deep" listening position so people on the couch and directly behind the couch could get an acceptable soundstage. I found that my preference between front or back row seating position was dependant on the source material being played. The sound was better in the front with some material, better in the back with other material. During demos I tried to play a mix of material to accommodate people in both front and back listening positions. Again, a bit of a compromise, but I felt over all it worked very well given the circumstances."

"The other point worth mentioning about the T systems is that imaging and soundstaging characteristics are relatively well preserved in narrow smaller rooms where there are close side wall boundaries. The reason for this is the limited horizontal dispersion of the speaker towards the closest wall. Because the dispersion is limited, there is less need for room treatment to deal with the first reflection off the side walls."
For more detailed info on the RBH Sound Signature T-2 System, check out or FAQ interview with Shane.
Appearances
Upon close inspection we noted that the Rosewood finish between the T-1 Satellites and the T-2 Bass Modules were not an ideal match like we have seen in our review samples finished in Knotty Pine.
RBH Sound told us these were pre-production units, and that the actual product that ships has higher quality control to avoid color/finish mismatching. In addition, the accessory bracing that is normally used to attach the Bass and Satellite modules did not arrive the day we showed up, thus the loudspeakers were a bit shorter in appearance.
From a cosmetics standpoint, RBH Sound will probably win no prizes with this system. It is BIG, heavy and boxy period! I think it looks best with the grills off to show the beauty of the drivers and the cool topology of the array which I label as the " Rich Array " after the Inventor and Loudspeaker Designer Shane Rich. However, my wife seems to think that there are too many shiny circles which cause her to get dizzy so it's usually best to leave them on when she's around.
Listening Experience
We started out with a cut from the Scofield/Metheny CD " Say the Brother's Name " for a baseline comparison with how the T-2 System sounded in the Alexis Park demo room vs our premier showroom. What we noticed was a clearly defined broad soundstage. However, there seemed to be too much emphasis in the mid bass which we were unfamiliar with in our set-up. I suspect this was either a result of poor room acoustics, or non ideal bass integration between the bass modules and satellites. Note that it took use nearly three hours to properly set up our review system, and we had the aid of LMS and a 1/12 th Octave FFT Audio Analyzer from Sencore to do this. Unfortunately RBH Sound did not have their test gear on hand to measure the in room response and thus the system was mostly tuned by ear. We had Shane fiddle with the subwoofer level and crossover controls a bit and this did seem to help. As a side note, most of the manufacturer demos we heard at CES seemed to emphasize, or dare I say, abuse subwoofer level control. Fortunately this wasn't nearly as problematic with the T-2 system configuration. We found the best overall sound of this speaker system was achieved about 1-2 feet further back then where the couch was originally placed.
Next the RBH staff brought out some of their demo CD's to show off the system.
RBH Sound furnished Music Demo List:
Brian Bromberg - Jaco
Patricia Barber-- Modern Cool
Flim and The BB's -- This is a Recording
Sara K. --- Play on Words
The most striking demonstration of the T-2 systems almost endless dynamic range and soundstage was revealed in Brian Bromberg's "Jaco" sadistic bass extravaganza. I don't know what we were more floored by, the sound emanating from the T-2 System, or the unmatched and unbelievable bass performance of Brian Bromberg. His speed and style pretty much put to shame any bassist we were familiar with, yet until this demo, none of us ever even heard of the guy! The T-2 system simply revealed all of the dynamics of this recording, and set up a soundstage so convincingly real that with our eyes closed, we felt as if Brian was jamming in the room right in front of us.
We are quite familiar with Patricia Barber's Modern Cool SACD, but were a bit disappointed that RBH Sound didn't have the SACD equivalent recording or an SACD player to demo it on. However, we found the CD recording to be quite good. In our opinion, Premonition Records (premier record company for Patricia Barber), makes some of the highest quality recordings we are familiar with, and this one was no exception. The song " Company " from Modern Cool contains a drum ballad unheard of in today's Smooth Jazz realm and welcomed in a world where two chord rock and prefabricated lyrics seem so commonplace. Again the Signature T-2 System was unyielding in its performance and we couldn't help but to get goose bumps each time the snare drum snapped and the cymbals crashed without hint of compression or distortion commonly heard in lesser designed systems.
The T-2 system effortlessly played every flavor of music thrown at it. In fact, a few industry professionals (one recording engineer, the other a consultant for Dolby Labs) sat in the hot seat and asked for more SPL. Shane happily cranked the volume up, and all of us except the two gentlemen held our ears shut while they were blasted out. After the demo, one of the gentlemen pondered the retail price of this system to be around $70K. It was then I quickly and quietly handed Shane a red marker and said, " You need to bump the price up on your literature immediately ". However, Shane being the typical Engineer (humble, overly truthful, and poor marketing skills), explained to the gentlemen that this system sells for $7500 in black vinyl or $9500 in a variety of
Conclusion
In our experience, the RBH Sound Signature T-2 system was clearly the best sounding two channel loudspeaker system we heard this year. Despite the fact that the set-up was less than ideal, a luxury we know based on our comparative listening tests in our premier reference system, it really put on a strikingly good performance unmatched in dynamics, soundstage and overall naturalness in sound from what we managed to hear at the " The Show " and CES. We are wholeheartedly looking forward to completing a detailed critical review on this system and continue to put it through its paces over the next couple of months.