Yamaha RX-V2500 & RX-V1500
Yamaha RX-V2500 & RX-V1500
Filed under: Receivers and Processors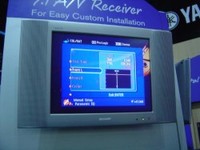 Yamaha Electronics Corporation has introduced two new home theater receivers with YPAO (Yamaha Parametric Room Acoustic Optimizer) technology. The new RX-V2500 includes an updated version of YPAO that includes a GUI interface and full variable Q and Gain settings for its parameteric EQ. Take a look at the screenshot on the right which shows one of the YPAO settings screens as seen from the GUI.
The mid-priced RX-V2500 (130W x 7) and RX-V1500 (120W x 7) feature powerful 7-channel amplification (9-channel output possible) and employ Yamaha's Digital ToP-ART (Total Purity Audio Reproduction Technology) Both receivers include a Pure Direct Switch for the highest quality stereo sound reproduction. A Night Listening Enhancer applies a gentale bass-enhancing EQ curve so that all programs, including Dolby Pro Logic IIx, sound natural at lower volume levels. Component video up-conversion and HDTV (720p/1080i) compatibility is standard for both models.
YSS-930, a 32-bit Floating-Point LSI that yields 34 DSP programs with 58 possible variations (31/55 on the RX-V1500) is standard and both units are compatible with the latest sound formats, including Dolby Pro Logic IIx, Dolby Digital EX, Dolby Pro Logic II, DTS-ES Discrete 6.1, DTS Neo:6 and DTS 96/24. Both also provide THX Select processing.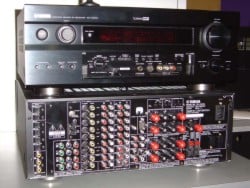 On-screen menus and a learning remote control provide easy access to all functions of the RX-V2500 and RX-V1500. Both units also offer an extensive range of inputs and outputs, including easy-to-use custom installation features. Both receivers offer multi-sourced Zone 2, Zone 3, powered Zone 2, Zone 2/3 audio out, 2/3 volume control, triggers out, IR port and an RS-232C interface. The RX-V2500 offers Zone 2 audio/video out with S-video, Front/Zone 2 Direct On/Off Switch, Rec Out/Zone 2 Selector, 2 trigger outs, IR ports and an RS-232C interface.
The RX-V2500 (MSRP $999) ships in October and the RX-V1500 (MSRP $799) ships in September.
Check out our detailed review of the Yamaha RX-V2500 !
For more information, write Yamaha Electronics Corporation, P.O. Box 6660, Buena Park, CA 90622; telephone (714) 522-9105; email [email protected] ; or visit www.yamaha.com/yec .