Yamaha RX-V1500 General Info
Yamaha RX-V1500 General Info
Filed under: Receivers and Processors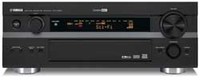 Yamaha revealed its newest line of receivers, including the RX-V1500 7-channel AV Receiver. Click on the images below for larger photos:  


Here's a quick breakdown of the features:
7-Channel 840W Powerful Surround Sound (120W x 7 RMS) [8 ohms, 20 Hz-20 kHz, 0.04% THD]
Digital ToP-ART and High Current Amplification
Pure Direct Switch for High Quality 2-Channel and Multi-Channel Sound Reproduction
192 kHz/24-Bit DACs for All Channels
YPAO Automatically Sets Best Sound for Any Room, Any Speaker Placement
Dialogue Lift for Enhanced Dialogue Sound
9-Channel Speaker Outputs with Zone 2 Out
RS-232C Interface, Trigger Output and IR Port
Dolby Pro Logic IIx
Zone 2 Speaker Out and Amplifier Assignment, and Zone 3 Volume
Front Panel Video Aux Inputs with Optical Digital an d S-Video
8 Digital Inputs (5 Optical/3 Coaxial): [Fixed and Assignable]
Dolby Pro Logic IIx and DTS 96/24 Compatibility
Audio Delay for Adjusting Lip-Sync (0-240ms)
Selectable 9-Band Subwoofer Crossover
16 Surround Programs (55 Variations) with 2 THX Programs
Component Video Up Conversion
HDTV (720p/1080i) Compatibility
Wide-Range Video Bandwidth (60MHz -3 dB)
The new receiver adds 10W/channel to its predeccesor
Custom Installation Flexibility
The RX-V1500 also has some cool features that make it easy to achieve flexible custom installation in three different rooms (zones) of the home. Zone 2 power amplifier assignability and speaker terminals mean that Zone 2 can be fully independent with its own 2-channel power, while you still enjoy 5.1-channel sound in the main room. The video signal can be output to Zone 2 as well. Zone 3 has its own volume control, and there is an IR port for remote control capability and a trigger output for automatic power-on of other components. There is also an RS-232C interface for using a touch-screen controller or a PC to configure the receiver.
We're guessing that you can employ our Denon biamping technique to the Yamaha RX-V1500 and RX-V2500 as well, though we'll give you a full report once we obtain our review sample.
Yamaha RX-V1500 vs. RX-V1400 Comparison
| | | | |
| --- | --- | --- | --- |
| Specification | RX-V1500 | RX-V1400 | Comments |
| Rated Power | 120wpc x 7 | 110wpc x 7 | Not an all channels driven specification |
| DTS Neo: 96Khz | Yes | No | DTS Neo 96kHz provisioning |
| Pure Direct | Yes | No | Pure Direct offers improved signal routing |
| YPAO Test Time | Shortened | Default | Total process now completes in 3 min |
| YPAO Test Tone | Changed | Default | Test tone intensity minimized and automatically changes the test duration dependent on room noise |
| Night Listening Setting | Yes, Cinema & Music | Yes | Selectable source type |
| RS-232C interface | Yes | No | Available for software upgrades |
| Macro Command in Remote Unit | Yes | No | Programmable macro commands |
| Optical Connections with shutter | Yes | No | No more lost dust caps |
| Schottky Barrier Diode for high sound quality | Yes | No | By using new high quality parts, overall sound quality is improved. |
See our review of the Yamaha RX-V2500 receiver ...
Visit Yamaha