Wayne Kerr 4230 LCR Meter
Wayne Kerr 4230 LCR Meter
Filed under: Technology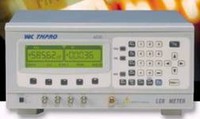 4230 LCR METER
Key Features include:
0.1% basic measurement accuracy
200kHz continuous frequency range
Simple straightforward operation
Low Cost
Comprehensive range of measurement functions
RS232, GPIB, and Bin handler interfaces
Wide AC drive level

Small physical size
Comprehensive measurement functions to suit all requirements
The 4230 LCR Meter measures all the parameters you would normally expect, including Impedance (Z), Series and Parallel Resistance (R), Capacitance (C), Inductance (L), Dissipation Factor (D), Quality Factor (Q), Phase Angel (?), and a few you might not. These include Reactance (X), Conductance (G), Subsceptance (B) and DC Resistance (DCR).
| | |
| --- | --- |
| 1J4230 | 4230 LCR Meter supplied with user manual, power cord, and Kelvin lead (AC-6870K1) |
| | |
| Accessories | |
| FX-0000C1 | 4 terminal component fixture |
| 1EVA40100 | Kelvin clips (fine jaw) |
| 1EVA40180 | Kelvin clip (large jaw) |
| 1EVA40120 | SMD Tweezer |
| 1EV1006 | BNC to 4 terminal component fixture |
Flexible, full remote control
Providing control and output capability the 4230 LCR Meter offers three useful interfaces as standard, including RS-232, GPIB and Bin Handler, making remote control and printing straightforward.
Fast, accurate repeatable measurements
Testing electronic components is easy with the 4230 LCR Meter. Just connect the component and the LCR meter accurately measures the component value displaying the selected primary and secondary value, with a basic accuracy of 0.1%. Connection to the component is made using one of a range of 4 terminal Kelvin connectors.
Variable Frequency Range from 100Hz - 200kHz
Providing a variable frequency from 100Hz to 200kHz the 4230 LCR Meter can test all components at the desired test frequency, allowing a component to be tested at actual operating frequency.
Unbeatable performance… Unbeatable price
The 4230 LCR Meter provides unbeatable performance, with 200kHz continuous frequency range, 0.1% basic accuracy, comprehensive measurement functions and GPIB, RS232 and Bin Handler as standard. All this performance is provided at an unbeatable price.
Key Specification
| | |
| --- | --- |
| Function | 4230 |
| Frequency range | 100 Hz - 200 kHz in 390 steps |
| AC test signal level | 50mV, 100mV, 250mV, 1Vrms |
| DC test measurement level | 0.5V |
| DC bias | 2 V . |
| Measurement parameters | Z, R, X, G, B, C, L, D, Q, Ø, DCR |
| Basic accuracy | 0.1% |
| Interface | GPIB, RS-232, Bin Handler |
| Size | Height 150mm, Width 320mm, Depth 300mm |
| Weight | 6kg |

Order Information:
| | |
| --- | --- |
| 1J4230 | 4230 LCR Meter supplied with user manual, power cord, and Kelvin lead (AC-6870K1) |
| | |
| Accessories | |
| FX-0000C1 | 4 terminal component fixture |
| 1EVA40100 | Kelvin clips (fine jaw) |
| 1EVA40180 | Kelvin clip (large jaw) |
| 1EVA40120 | SMD Tweezer |
| 1EV1006 | BNC to 4 terminal component fixture |
Pricing:
| | |
| --- | --- |
| Model | Price (USD) |
| 4230 | $1,499.00 |
Contact Information:
Wayne Kerr Electronics
165L New Boston Street
Woburn , MA 01801
781-938-8390
www.waynekerrusa.com