Rives Audio Parc and Parc +
Rives Audio Parc and Parc +
Filed under: Miscellaneous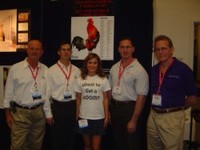 Chris Huston, Richard Bird, unknown model?, Gene and Patrick
Rives Audio introduces the PARC + at CEDIA. The PARC + gives the award winning PARC 6 channels of equalization for home theater or multi channel music.
Pictured above is the PARC (Two Channel) and the PARC Plus (Six Channel)
Parametric Room Correction.
The PARC / PARC + system have the following features:
1. 3 bands of parametric equalization
2. Operates in the bass region only, below 350 Hz, leaving the midrange and treble transparent
3. Q factors (width of peak) from 1 to 11
4. up to 18 db of attenuation
5. Fully programmable with 3 memory settings
6. Analog circuitry, no A/D or D/A conversion
7. Can be set up and calibrated by a Rives trained dealer in a matter of minutes
8. Balanced and single ended inputs and outputs
In addition to the PARC / PARC + system, Richard Bird and Chris Huston were available to discuss room designs with prospective and existing dealers. They had several designs as examples and we at Audioholics can attest, these were truly state of the art designs. If you are interested in designing, or improving your existing room, you really need to contact the folks at Rives Audio.
Check out our new Acoustics Section of Audioholics powered by Rives Audio!