Onix CD-1 CD Player
Filed under: Transports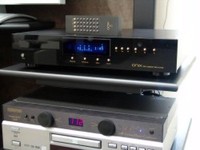 For those looking for an audiophile CD player to do your collection justice with build quality and appearance to match check out the latest offering from AV123 .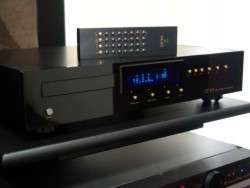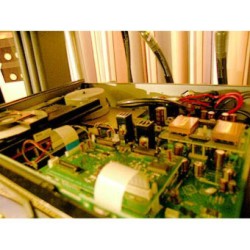 Onix CD-1 specifications: .
**Digital outputs** 
RCA connection
Output impedance: 250ohm 
Operating voltage: 0.5Vp-p 

**Analog outputs**
RCA/XLR connection 
Frequency range:5Hz- 20KHz
Dynamic: > 98dB 
Channel separation: 100dB
THD:0.0025% 
Output level: 2V RMS
Output impedance: 200ohm

**General** 
Sampling frquency:44.1kHz
Resolution: 16-bit linear 
Error correction: CIRC
D/A converter:1-bit liner 
Signal to noise Ratio: > 103dB

Black gloss finish. One Crystal Copper Wiring. Copper binding and input posts.

Retail price $1495
Dimensions 18"w x 13"d x 3.8"h
Available late 2004
Available now for order and don't forget to use "Audioholics5" coupon code during the month of September to receive a 5% instant discount on orders!