Impact Acoustics Cables
Filed under: Cables and Power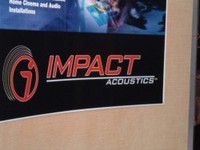 Impact Acoustics one of the newest Audioholics approved cable vendors had a nice display of their cables at Cedia.
Gene and Tom Sullivan (Product Manager of Impact Acoustics) pose for a photo (right) with a component video cable in hand. Tom told me that before contacting Audioholics he reviewed all of their marketing literature both online and in print to ensure the utmost accuracy and freedom of snake oil .
You wont find any batteries on Impact Acoustics cables, nor will you find glowing reviews about their chocolatey midrange performance or out of body experiences. Instead you will find quality cable and terminations all based on basic engineering principles defined in our cable articles .
Check out the Impact Acoustics Connections Guide for good basic solid information on all current audio and video connections for consumer audio.