Immersive Mediator Processor
Immersive Mediator Processor
Filed under: Receivers and Processors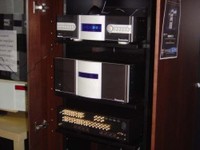 Mediator Specifications ( Preliminary )
Precision Motorola Symphony™ based 7.1 Channel Dolby Digital, Dolby Digital EX, Dolby Pro-Logic II/IIx, DTS, DTS-ES, and DTS Neo:6 decoding.
(4) HDMI inputs and outputs for video and audio switching.
Moving magnet phono input.
Eight channel analog audio input using RCA connectors for DVD-A, SACD, etc. Ultra pure, all analog signal path.
Digital audio (S/PDIF) inputs for six sources: four coax or optical and two coax only.
Coaxial and optical digital (S/PDIF) outputs provide two-channel digital down-mix from 5.1 sources for recording, etc.
Balanced outputs for main 7.1 channels.
3 additional single ended subwoofer outputs.
All-digital bass manager with crossover frequencies of 40 to 160Hz.
DSP based tone controls.
Professional grade 24-bit A-to-D converter and 24-bit/192kHz Multibit D-to-A converters.
All inputs can be renamed and are completely configurable for triggers, zone assignment, gain trim, max level, etc.
Second zone audio capability; can play sources independent of the main zone.
Full-time digital down-mix for two-channel tape recording, digital outputs, and second audio zone output from multi-channel digital sources.
Direct two-channel analog bypass mode.
Preprogrammed and learning MX500 remote control with LCD.
Music surround modes converts stereo inputs into five or six channels.
High performance Alps FM/AM tuner with 40 presets.
Separate trigger outputs and infrared inputs for both zones.
High-current (500mA total) trigger outputs.
IEEE-1394 (Firewire™) port for future expansion.
Flash upgradeable memory.
Modular internal construction.
2RU chassis with floating multi-element, milled aluminum faceplate.
Black lacquered removable side trim panels. Optional rack mounting hardware provided.
IEC power inlet, 120/230 VAC configurable.
Weight - 27 lbs.
Dims: (HxWxD) 6" x 18 ½" x 16 ¼"