Immersive MA7-200 7-Channel Power Amplifier
Immersive MA7-200 7-Channel Power Amplifier
Filed under: Amplifiers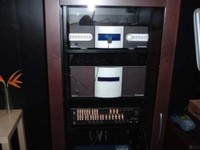 MA7-200 Specifications
Modular chassis design holds up to seven 200 watt (@8 ohms) mono block power modules.
200 watt power modules feature independent 350VA, low noise toroid power transformers w/ high speed rectifiers and 48,000uF of storage per channel for a 336,000uF total, across seven independent channels.
High efficiency Class H power amplifier design, minimizes power losses and allows cool operation.
Complementary, discrete power amplifier design incorporating high current, high speed, Toshiba power devices.
Truly transparent, integrated soft clip circuitry.
Balanced XLR and RCA inputs.
Channel status indicators for standby, operate, and fault.
THD less than .015%, 20Hz-20kHz with 80kHz measurement bandwidth.
DC offset, less than 1mv, servo controlled.
Completely Stable into 2 ohm loads.
200 watts/8 ohms - 300 watts/4 ohms - 400 watts/2 ohms *minimum* - seven channels driven, mains limited.
Frequency response 20Hz-20kHz +/- 0.1 dB, or 10Hz-100Khz +/- 3dB.
Signal to Noise Ratio - 100dB, un-weighted.
Input impedance - 20k ohms.
Crosstalk between ANY channels - greater than 120dB.
Fully protected from all fault conditions with ultra quiet, module mounted, fan assisted cooling for severe duty cycle applications.
Soft start circuitry. Silent turn on/off - No audible transients.
Signal sensing auto turn on or remote trigger. Soft touch power switch.
All aluminum capacitors are premium quality, low ESR, 105°C rated for high reliability and performance.
Doubled sided, plate through, glass epoxy, FR4 PCB's used throughout with 2 ounce poured copper on all power sections and ground planes.
Modules are designed for field replacement with the removal of four screws.
5RU chassis with floating multi-element, milled aluminum faceplate. Indirect cobalt blue illumination of all controls and main panel.
Power consumption during standby - 3 watts or 60 watts at idle.
IEC power inlet, 120/230 VAC user configurable on modules.
Weight - 115 lbs.
Dims: (HxWxD) 7 ¾" x 18 ½" x 19 ¼"