Energy Veritas Loudspeakers
Energy Veritas Loudspeakers
Filed under: Loudspeakers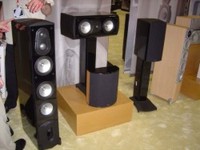 Just like the Energy line of Veritas Custom Speakers, the Veritas box speakers are engineered to tonally match each other meaning you can seamlessly integrate box and in-wall speakers into a system.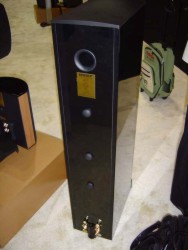 Pictured above from left to right are the Veritas family of products including the Flagship tower V2.4i ($4000/pair) which has an armament of three (3) 6 ½" phase plug woofers, 2" aluminum dome midrange and 1" tweeter mounted in their convergent source module, V2.0Ci center channel, V2.0Ri surrounds, and V2.2i bookshelfs.
Some key stand out features of the Veritas Product Line are as follows:
Bass drivers employ dual voice coils, large extruded heatsinks and phase plugs to dissipate heat and reduce distortion.
1" thick MDF baffles.
Hand manufactured dovetail cabinet designs that lock together to ensure a rigid enclosure.
Bolt-through rods on woofers to back cabinets to add further cabinet rigidity and bracing without consuming excessive cabinet volume of conventional bracing.
Soundfield management (on 2.0Ri models) to select between [Dipole, Bipole, or Corner] placement as well as contouring response.
A Note About Phase Plugs
The phase plug essentially eliminates the need for a dust cap, which in turn, reduces cone mass, permitting extended frequency response. It allows more airflow through the motor structure, which improves cooling and thus increases power handling. A phase plug also helps to reduce on-axis beaming by dispersing higher frequencies that the cone is producing.
For more details visit Energy Speakers website .