Energy Encore Loudspeaker System
Energy Encore Loudspeaker System
Filed under: Loudspeakers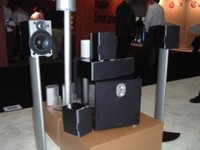 Energy has always been known for their superbly performing small packaged speaker systems such as the Take 5. Energy's new Encore System appears to follow in this legacy.
Visit Energy's website for specifications.
Pictured above are the Energy Encore 2 satellites (front/rear speakers), Encore 1 center channel and Encore 8 subwoofer.