Energy Connoisseur Series
Energy Connoisseur Series
Filed under: Loudspeakers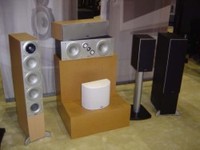 Design Goals for all Energy loudspeakers including the Connoisseur Series:
Flat On-axis frequency response
Wide and constant dispersion
Low distortion and resonance
All of these goals are established from engineering practices promoted by Dr. Floyd Toole of Harman International as well as the Canadian National Research Council (NRC). Since Energy is an active member of the NRC, it is easy to see the correlation between their design philosophies.
Visit Energy's website for specifications.