Emotiva DMC-1 Processor
Filed under: Receivers and Processors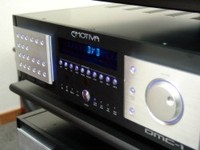 Features:
Precision Motorola Symphony™ based 7.1 Channel Dolby Digital, Dolby Digital EX, Dolby Pro-Logic II/IIx, DTS, DTS-ES, and DTS Neo:6, decoding

NEW Motorola DSP - Their Top of the Line

Broadcast quality video up-conversion circuitry for all composite and S-video inputs.

OSD (On Screen Display) for easy set up and calibration. Logical and easy to use. OSD is component video compatible!

All inputs can be renamed and are completely configurable for triggers, zone assignment, gain trim, max level, etc.

Second zone audio capability; can play sources independent of the main zone

Full-time digital down-mix for two-channel tape recording, digital outputs, and second audio zone output from multi-channel digital sources

Direct two-channel analog bypass mode

Preprogrammed and learning MX500 remote control with LCD

Music surround modes converts stereo inputs into five or six channels of audio

High performance Alps FM/AM tuner with 40 presets

Three sets of 100 Mhz+ HDTV compatible wide-bandwidth component video inputs with two buffered outputs

Six audio/video inputs, each with audio, S-video and composite video

Three audio inputs

Moving magnet phono input

Eight channel analog audio input using RCA connectors for DVD-A, SACD, or other external multi-channel source. Ultra pure, all analog signal path.

Digital audio (S/PDIF) inputs for six sources: four coax or optical and two coax only

Coaxial and optical digital (S/PDIF) outputs provide two-channel digital down-mix from 5.1 sources for recording, etc

Balanced outputs for main 7.1 channels

3 additional single ended subwoofer outputs

All-digital bass manager with crossover frequencies of 40 to 160Hz

DSP based tone controls

Professional grade 24-bit A-to-D converter and 24-bit/192kHz Multibit D-to-A converters

Separate trigger outputs and infrared inputs for both zones

High-current (500mA total) trigger outputs

IEEE-1394 (Firewire™) port for future expansion

Flash upgradeable memory

Modular internal construction

3RU chassis with floating multi-element, milled aluminum faceplate. Indirect cobalt blue illumination of all controls and main panel

Black lacquered removable side trim panels. Optional rack mounting hardware provided

IEC power inlet, 120/230 VAC configurable.

Weight - 27 lbs.

Dimensions: (HxWxD) 6" x 18 ½" x 16 ¼"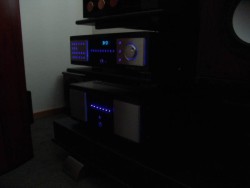 MSRP: $2999 (package discounts available)
Even with the lights out, the Emotiva DMC-1 and matching MPS-1 Modular Amplifier looks stellar!
AV123 is currently offering an Audioholics 10% discount on all pre-orders for the brand new Emotiva 9.4 preamp/processor and power amplifier system as well as the new RS 1000 flagship loudspeaker system through the month of September. Redeem your coupon code "Audioholics" via AV123 shopping cart checkout or via phone orders.