California Audio Technology CAT Speakers
California Audio Technology CAT Speakers
Filed under: Loudspeakers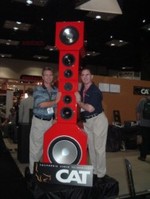 Last year we heard a rather impressive custom home theater system hosted by Creative Home Theater at the CES 2004 featuring all California Audio Technology (CAT) loudspeakers. As we were walking the floor we happened upon these giant red speakers and decided to get reacquainted.
CAT MBX Series start at around $14.8K/pair and work up to about $1.4 million dollars (that's no typo!)
Yosemite-Sequoia CMBX10.9564 ($85,000/pair as configured above)
We couldn't help but wonder what kind of homes people would have to accommodate a system of this magnitude.
Since I missed the gym this week traveling for Cedia, I figured I would catch up on workouts curling this CAT subwoofer driver which felt like it weighed about 70-80lbs.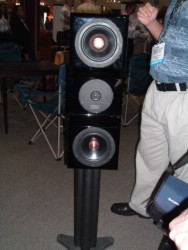 CMBX 8.7 Trinity ($14,800/pair)
28mm textile dome tweeter
dual 7" MBX copper phase plug magnesium drivers