MarkAudio-SOTA Cesti T Tower Speaker Conclusion
MarkAudio-SOTA Cesti T Tower Speaker Conclusion
To wind down this review, I will briefly go over a few of the things I like about the MarkAudio-S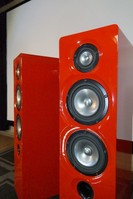 OTA Cesti T speakers and also a few of the things I wish they did better. To start with, I will say that their greatest virtue is their midrange sound. To my ears, the midrange was crystal clear, and many vocals sounded lifelike and three-dimensional on the Cesti Ts. It is in this frequency band where MarkAudio-SOTA's design philosophy pays off. I also dig the aesthetics of the Centi speakers; they are stylish without being over-the-top or 'loud' in appearance. They are not large or heavy either, so they will not dominate the room. Since they don't have to be toed-in to sound their best, they can stand parallel with other furniture in-room without losing sound quality. I recommend using them facing straight ahead instead of angled toward the listener. I like the idea of asymmetrical waveguide edges whereby you can 'customize' their sound using acoustic reflections from the walls by swapping the left and right speaker's positions. Room acoustics will always be a big determinant in the end sound of any system, and in this clever design feature, MarkAudio-SOTA is using that to their advantage.  
Let's now discuss some of the things I wish they did better. Their biggest problem is the treble spikiness that is a consequence of the cone break-up modes. On recordings that use lots of compression or recordings that divide their dynamic range for an even spectral balance, this can bring about some very noticeable sibilance - and that is even after they have been positioned so the most neutral axis is facing the listener. On axis, the speaker is very bright which, on the wrong recording, can be searing.
Something else I want to mention here is that these are not high-dynamic range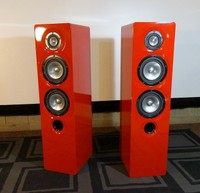 speakers. This is not a 'con' really but is something that should be emphasized at this point in the review. These are not party speakers, and they would make for a poor fit for someone looking to blast some heavy-metal for some head-banging. As was said before, pay attention to the power-handling specifications; they are very specific for these speakers whereas on most speakers they only serve as a broad guideline. That being said, the Cesti T speakers are likely able to get louder than what most people are comfortable with, so for nominal listening levels and some higher volume listening, the Cesti speakers should be adequate.
These speakers also are not meant for deep bass. If a subwoofer is not being employed, I would stay away from material that has strong low-frequency content below 50 Hz. These speakers are not meant for blazing dubstep or hip-hop music that has deep bass. In my free-air testing, I tried to measure distortion by running 30Hz-24kHz sweeps at 90 dB and 95 dB. The low frequencies of the 95 dB sweep deformed one of the metal 4" cones. I should mention that is a stressful test, but the point was made that these speakers are not made for loud deep bass.
To my ears, the Cesti T speakers sounded good for orchestral recordings, jazz, contemporary instrumental recordings like ethnic music, solo vocals, pianos, strings, and so on. However, on recordings where compression was significant so was this speaker's sibilant signature. I think that if I tried to listen to radio or many satellite stations like Sirius XM, the sibilance would become very pronounced since compression is used so heavily in those kinds of broadcasts. I will say I enjoyed most of what I listened to on the Cesti T speakers, but I would not give them a full-throated recommendation, because the per-pair cost of nearly $3,500 is rather steep for a speaker with cone break-up problems of this nature. I would recommend them if you don't tend to listen to recordings of the type that tend to heavy-compression, like much of modern rock music, pop music, electronic music. If your tastes run toward more 'refined' recordings, and you live in an apartment or condo where music can not be blasted, they may be a great fit for you due their rich midrange sound and their stylish appearance, low weight, and small footprint. If that sounds appealing to you, give them a try, since they can be returned for a full refund in 30 days if you do not like them. I think for certain people's tastes, the Cesti T loudspeakers will hit their 'spot' nicely.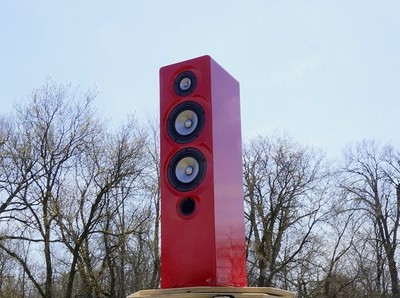 MarkAudio-SOTA Cesti T Loudspeaker Review
MarkAudio-SOTA Exclusive American Distributer:
Tadashi Sales & Marketing
4915 SW Griffith Dr.
Suite 302
Beaverton, Oregon 97005
Markaudio-sota.us
844-202-4278
The Score Card
The scoring below is based on each piece of equipment doing the duty it is designed for. The numbers are weighed heavily with respect to the individual cost of each unit, thus giving a rating roughly equal to:
Performance × Price Factor/Value = Rating
Audioholics.com note: The ratings indicated below are based on subjective listening and objective testing of the product in question. The rating scale is based on performance/value ratio. If you notice better performing products in future reviews that have lower numbers in certain areas, be aware that the value factor is most likely the culprit. Other Audioholics reviewers may rate products solely based on performance, and each reviewer has his/her own system for ratings.
Audioholics Rating Scale
— Excellent
— Very Good
— Good
— Fair
— Poor
| Metric | Rating |
| --- | --- |
| Build Quality | |
| Appearance | |
| Treble Extension | |
| Treble Smoothness | |
| Midrange Accuracy | |
| Bass Extension | |
| Bass Accuracy | |
| Imaging | |
| Dynamic Range | |
| Fit and Finish | |
| Performance | |
| Value | |
See also:
Confused about what AV Gear to buy or how to set it up? Join our Exclusive Audioholics E-Book Membership Program!
Recent Forum Posts:
gene posts on July 10, 2017 02:30
MarkAudio-SOTA has recently launched their brand to the North American market, and we had a chance to give their Cesti T tower speakers a run around our testing grounds to gauge their performance. MarkAudio-SOTA is a new speaker manufacturer that uses a team of highly-respected industry vets to assemble a line-up of finished speakers based around full-range drivers. The Cesti T uses three full-range drivers placed into a very slick, modern cabinet with a crossover designed to get the most out of this driver array. Read our review to see how well this idea translated into practice.

21581

Read: MarkAudio-SOTA Cesti T Tower Loudspeaker Review
Post Reply