Fluance XL7F Floorstanding Loudspeaker Listening Tests
Fluance XL7F Floorstanding Loudspeaker Listening Tests
Listening Scenario #1: Audioholics Showcase Theater Room
I pulled out one the Audioholics demo CD's I use for certain single-blind listening tests to begin my assessment of the Fluance XL7F's using key tracks from this disc as noted below.

Dianne Reeves - Never too Far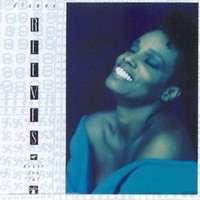 Bass emanating from this track was incredibly punchy and reasonably tight, but a bit overbearing in the upper registers. At high listening levels, the Fluance XL7F's maintained incredibly good composure, with minimal signs of strain from the mids or tweeters. I've heard other budget systems, and those costing considerably more, unable to hit the high output levels I was achieving with the XL7F's so effortlessly. Tonally I initially felt the upper frequencies were a bit too laid back and the vocals weren't completely locked into my money seat. So I experimented with toe-in. I found the XL7F's sounded best with a good more deal of toe-in than I'd use with most speakers. Angling them at the listener really helped open things up considerably. I was now getting good imaging and clear vocals even when I shifted my head side to side. I did notice some loss of high frequency detail when I went from seated to standing position but the asymmetry of my room and the fact that it's acoustically treated tends to exaggerate this phenomenon in some speaker systems, including my very own reference speakers.
Fourplay - Chant
The resonance in the kick drums was well pronounced in the Fluance XL7F tower speakers. I use this song to test how prone a speaker is to bottoming out. It wasn't until I really pushed these speakers to their limits that I heard the woofers voice coils leaving the gap. When using my Marantz PM-11S2, it actually shutdown at these extreme listening levels as that amp is rather sensitive to low impedance loads which in the bass frequencies the XL7F's present such a load. The XL7F's did a really good job extracting all the nuances of this song. From the vocal overlays to the rain sticks, everything was there.
Pat Metheny / John Scofield - Say the Brother's Name
I love the reverb of Pat Metheny's guitar in this song. A really good speaker system will instantly transport you into a small jazz club in NY. The Fluance XL7F's put forth a valiant effort at placing me there. The brushes of the high hats were a bit further back than I've heard on other speakers, but the overall tone was very pleasing. The XL7F's did a fine job separating all of the musical instruments. Speakers at this price point tend to mush things together, especially when played at high output levels. This wasn't the case on the XL7F's. I can't say that for too many tower speakers at this price point or even hovering around the $1k/pair territory too.
Steely Dan - Two Against Nature
you can't have a serious speaker evaluation without throwing on some Steely Dan. I really like using Two Against Nature not just because it's a well recorded CD, but also because its full of great musical content too. Donald's voice in the title track sounded clear and distinct and all the instrumentation was well separated. It was a pleasure listening to this track on the Fluance speakers.
Madonna – "Live to Tell"
Perhaps my favorite Madonna song of all time, "Live to Tell" lets you really hone in on female vocals to listen for coloration in the midrange. The Fluance speakers portrayed her voice respectably well, though perhaps not as focused as I've heard on higher caliber speakers. I did hear a great envelope of sound emanating from the speakers. At times I almost felt like I was listening in multi channel which was impossible considering I was using a two-channel analog integrated amplifier from Marantz to power these speakers.
Eagle – Hotel California (Live)
The beginning of this song pegs the acoustical guitar in the right speaker. The XL7F did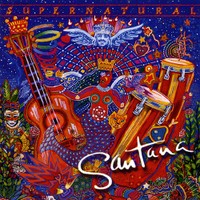 a superb job of giving you that live unamplified feeling. The clapping audience expanded around the room (again giving me that surround sound feeling from just two speakers). The bass was forward and tight. Despite it was a bit over pronounced I actually preferred that sonic characteristic in this case as it added a lot of punch to the song. I honestly couldn't believe I was hearing this kind of quality sound in my large theater room from a pair of tower speakers costing less than most entry level bookshelf alternatives.
CD: Santana – Supernatural
I guess by now this CD is considered an oldie by today's standards, but it's full on great music and offers excellent sound quality to evaluate loudspeaker performance. I started with track #3 "Put your lights on" and again noticed that the XL7F's were putting forth a nice wide soundstage with a nice stereophonic effect between the dual acoustical guitars. Vocals were vibrant and this track just begged to be listened too on the Fluance speakers. Track #12 "Primavera" is my favorite track on the disc. I can't help but butcher the lyrics while singing along as I never took the time to verify that their likely not singing about some tasty pasta dish. The bongos popped out nicely on the XL7F's while the midbass was tight and perhaps a tad over pronounced which I actually enjoyed in this instance. The reeds sounded natural but perhaps a bit recessed into the background.
Listening Scenario #2 Friends House to Compare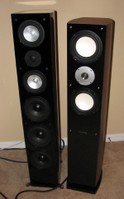 Again, using the Audioholics demo CD, I did some brief listening comparisons between the Fluance XL7F and EMP E55Ti (rev1) towers. The EMP's ($795/pr) cost considerably more than the Fluance ($469/pr) but both brands are considered to produce high value oriented products. Thus, I wanted to get a level set of performance from the Fluance using a budget minded tower speaker I was quite familiar with. I found the EMP's were about 2dB more efficient than the Fluance speakers so I had to adjust volume level each time when switching between pairs. I had my friend along with me so he could formulate an opinion on the comparison too.
Listening to Fourplay "Chant" revealed that the Fluance XL7F's clearly dug deeper than the EMP's. It was almost as if a subwoofer was thrown in the mix when switching between the EMPs and the Fluance speakers. However, the EMP's more forward character lent itself to greater clarity of the instruments. Although bass wasn't as nearly pronounced on the EMP's, what it did produce was tighter.
As we listened to more jazz-oriented music such as Pat Metheny, we both clearly preferred the sonic attributes of the EMP speakers. The Fluance threw off a slightly wider soundstage but the EMP's had a much larger vertical presence to them. But, when jumping to Steely Dan, we both started really appreciating the bass extension of the Fluance. In this scenario, each time we switched over to the EMP's we felt something was missing. Normally my friend listens to the EMPs with his matching ES10i sub (a must with these speakers in my opinion). The subwoofer was clearly missed on the EMPs when we directly compared these two speakers with no subwoofer present. Both speakers sounded quite good in their own right and considering the Fluance were about $300 cheaper than the EMPs and had better bass extension, I could see folks not willing to invest more money in a powered subwoofer preferring these speakers. However, for those running a sub, and more oriented towards accurate reproduction of vocals and acoustical instruments, the EMPs were the clear winner. The fact I was even comparing the Fluance speaker to a more expensive alternative - and finding things I liked about them better - was a testament to my initial assessment of how good the Fluance speakers were for their modest asking price.
Confused about what AV Gear to buy or how to set it up? Join our Exclusive Audioholics E-Book Membership Program!
See also:
Recent Forum Posts:
sukihock posts on January 22, 2014 15:45
Listening to these right now. Like the presentation better than my late HTD Level Three Towers. Maybe I just miss the dispersion of a good dome tweeter. Also, I think the perceived strange x-over choice works for this down-firing design. Creates a nice wall of sound.
exlabdriver posts on July 03, 2013 00:54
Good eye, billy, unfortunately mine aren't as good as yours; however, with this Review being at the top of the front page under 'Audioholics Featured Reviews and Articles' I assumed that it was one of the latest articles like it normally is when it's on top of the heap there…

TAM
billy p posts on July 02, 2013 21:43
exlabdriver, post: 975338
Post #19 - a thread on Fluance turns into major brand bashing again…

TAM
The post you're alluding too was made 05/15/12….just to set the record straight.
exlabdriver posts on July 02, 2013 19:24
This is a Fluance thread that should be kept on topic discussing the attributes of that gear; however, suffice it to say that my BS Meter pegged on that post…

TAM
Marshall_Guthrie posts on July 02, 2013 14:05
exlabdriver, post: 975350
How many time do we have to see virtually the same post with the same pictures?

It is out there numerous times & in multiple places. Brand bashing at its finest, IMO…

TAM
Sorry, I guess I'm not active enough on the forums anymore to catch multiple instances of the same post. Still, is the content incorrect? I'm not trying to take sides, but if the content isn't untrue, it really doesn't matter how many times it shows up.
Post Reply