Fluance XL7F Floorstanding Loudspeaker Conclusion
Fluance XL7F Floorstanding Loudspeaker Conclusion
Recommendations
I must confess, I spent very little time listening to the Fluance XL7F speakers with the grilles on. The shiny drivers radiating off the front baffle are just too beautiful to look at. Unless you have small children or pets, I recommend you also run these speakers "in the nude" and stow away the grilles. For those finding these speakers too bass heavy, I suggest you set them up as "small" crossing them over between 60 to 80Hz to a dedicated subwoofer. This should also help to improve bass response while also increasing system dynamic range by taking the bass load off the unfettered midrange drivers. Also since these speakers dip down to the 4 ohm area in the bass region, bass managing them will also take considerable strain off your A/V receiver. If you plan on running them full-range, make sure you experiment with placement as their pronounced bass upper bass response will make them a little more placement finicky than some speakers. The XL7F's sound their best when toed in so that the tweeters are pointing at the listening area. Don't be afraid to feed them good quality power. A dedicated amp would really make these speakers shine and bi-amping is certainly an option to consider. In fact, for those not running a dedicated sub in their systems, you may wish to experiment with biamping these by running the 8" bottom firing woofers through your A/V receiver's LFE output to an external amp. This would essentially treat them as dedicated subwoofers. I'd imagine this could produce satisfying results in small to medium size rooms.
Conclusion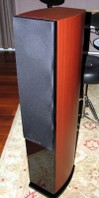 In tough economic times, it's always refreshing to find bargains to help fellow budget-minded Audioholics reach their goals of sonic nirvana. While the Fluance XL7F's don't represent the pinnacle of loudspeaker technology compared to some price-no-object systems, they get about as close to that goal as any sub $500/pair towers I've listened too. They are, in my opinion, one of the best values in floorstanding speakers I've seen in many years. The XL7F's offer near full-range sound with respectably good fidelity and cosmetics. They will play plenty loud even in fairly large rooms without ever sounding fatiguing or strained. The fact that these speakers could be bi-amped is not only rare at this price point but offers some great alternative setup options. If you're looking for a floorstanding speaker that will give you plenty of bass and good sound on the cheap, give these babies a try. Free shipping and a lifetime warranty is just gravy for this already tasty deal. Highly Recommended!
Fluance XL7F Scorecard
MSRP: $469/pair (includes shipping)

Fluance
1.888.61.SOUND (1.888.617.6863)
The Score Card
The scoring below is based on each piece of equipment doing the duty it is designed for. The numbers are weighed heavily with respect to the individual cost of each unit, thus giving a rating roughly equal to:
Performance × Price Factor/Value = Rating
Audioholics.com note: The ratings indicated below are based on subjective listening and objective testing of the product in question. The rating scale is based on performance/value ratio. If you notice better performing products in future reviews that have lower numbers in certain areas, be aware that the value factor is most likely the culprit. Other Audioholics reviewers may rate products solely based on performance, and each reviewer has his/her own system for ratings.
Audioholics Rating Scale
— Excellent
— Very Good
— Good
— Fair
— Poor
| Metric | Rating |
| --- | --- |
| Build Quality | |
| Appearance | |
| Treble Extension | |
| Treble Smoothness | |
| Midrange Accuracy | |
| Bass Extension | |
| Bass Accuracy | |
| Dynamic Range | |
| Performance | |
| Value | |
See also:
Confused about what AV Gear to buy or how to set it up? Join our Exclusive Audioholics E-Book Membership Program!
Recent Forum Posts:
sukihock posts on January 22, 2014 15:45
Listening to these right now. Like the presentation better than my late HTD Level Three Towers. Maybe I just miss the dispersion of a good dome tweeter. Also, I think the perceived strange x-over choice works for this down-firing design. Creates a nice wall of sound.
exlabdriver posts on July 03, 2013 00:54
Good eye, billy, unfortunately mine aren't as good as yours; however, with this Review being at the top of the front page under 'Audioholics Featured Reviews and Articles' I assumed that it was one of the latest articles like it normally is when it's on top of the heap there…

TAM
billy p posts on July 02, 2013 21:43
exlabdriver, post: 975338
Post #19 - a thread on Fluance turns into major brand bashing again…

TAM
The post you're alluding too was made 05/15/12….just to set the record straight.
exlabdriver posts on July 02, 2013 19:24
This is a Fluance thread that should be kept on topic discussing the attributes of that gear; however, suffice it to say that my BS Meter pegged on that post…

TAM
Marshall_Guthrie posts on July 02, 2013 14:05
exlabdriver, post: 975350
How many time do we have to see virtually the same post with the same pictures?

It is out there numerous times & in multiple places. Brand bashing at its finest, IMO…

TAM
Sorry, I guess I'm not active enough on the forums anymore to catch multiple instances of the same post. Still, is the content incorrect? I'm not trying to take sides, but if the content isn't untrue, it really doesn't matter how many times it shows up.
Post Reply